Considering Collagen During Pregnancy? What The Research Says
(This post probably contains affiliate links. I receive a small commission at no cost to you through links shared on this website to help keep the information I provide free to you)
Inside: Whether you're a busy mom-to-be, fitness lover or wanting to prevent wrinkles and improve hair growth, adding collagen to your routine may be a good choice! But is it safe? Let's find out!
Becoming pregnant with my first baby opened my eyes to how daunting and overwhelming it can be to determine what is safe and what isn't.
I knew that every choice I made from the food I ate to the supplements I took had a potential impact on my baby's health and development.
Since collagen has be one of my favorite suppliements for as long as I can remember, I could't help but question whether or not it was safe to continue using during pregnancy.
After all, collagen is produced naturally in our bodies, so does that mean supplemental collagen is safe too?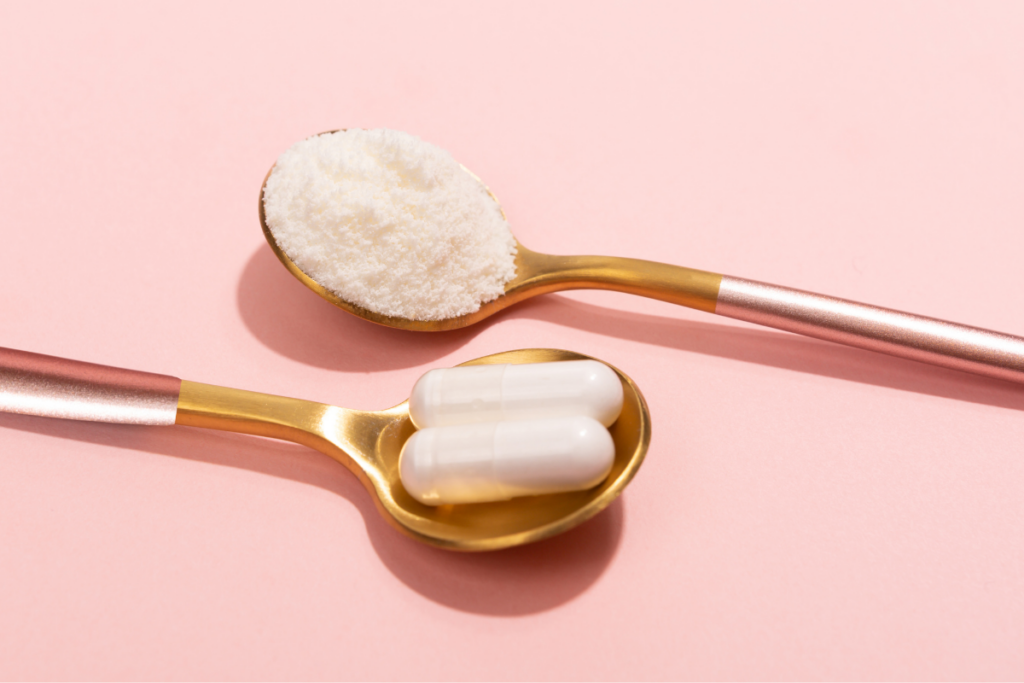 Let's take a closer look at the current research so you can make an informed decision about taking collagen protein powder or supplements during pregnancy!
Disclosure: Although I am a certified prenatal/postnatal exercise specialist and personal trainer, I am not YOUR trainer. The content on this blog is for informational purposes only and should not be a substitute of the information and advice you receive from a healthcare professional. This website does not replace the medical advice you receive from your provider.
What Is Collagen Anyway?
Before we get into the benefits of taking collagen during pregnancy, let's start with the basics – what exactly is collagen?
Collagen is the most abundant protein found naturally throughout your body, making up one third of the body's total protein.
It's found in the connective tissues of our skin, bones, tendons, ligaments, and cartilage and it plays an important role in providing strength and structure to these tissues.
We start to see a decline in collagen production as we age, which is why supplements have become so popular in recent years.
The word "Collagen" is derived from the Greek word "kolla" meaning glue.
So, basically you can think of it as the "glue" that holds your entire body together. (*)
There are many different types of collagen, but the most common is Type I collagen, which makes up 90% of the collagen in our bodies.(*)
According to some studies, gram for gram, type I collagen is stronger than steel! (*) This is why we want to preserve it during pregnancy and as we age… strong skin, less wrinkles!
What is a Collagen Supplement?
Remember, collagen is naturally produced in the human body.
However, collagen production decreases as we age which is why we develop more wrinkles, dull dry skin and and joint pain.
We can get some collagen from the foods we eat such as bone broth however these molecules are too large to be absorbed in their whole form.
And let's be honest, making fresh batches of bone broth on a regular basis is not realistic for most people, especially busy moms.
This is where supplementation is beneficial.
Collagen peptides used in supplements are made by breaking down proteins that are naturally sourced from animals by cooking the bones, skin, and/or connective tissue. (*)
These molecules are smaller and more easily absorbed by the body and much more convenient to consume consistently.
Collagen peptide supplements are a convenient and easy way to boost collagen intake.
The Best Collagen Supplements For Pregnancy
If you have received the green light from your doctor and collagen supplementation is right for you, make sure to look for quality sources with clean ingredients and minimal additives.
Personal Favorite
Vital Proteins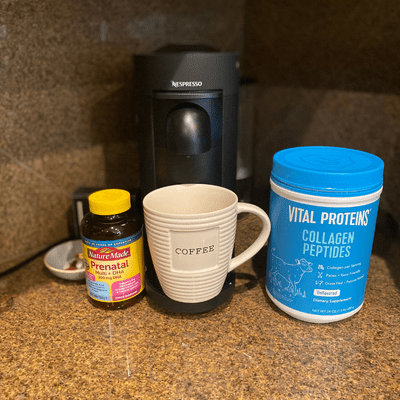 Runner Up
Sports Research Collagen Peptides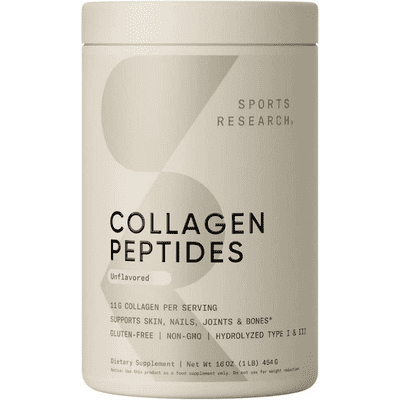 Premium
Naked Collagen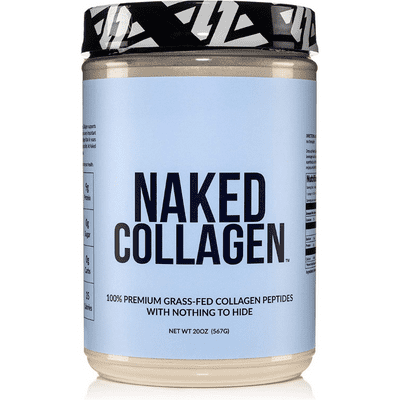 HIDDEN GEM
Ancient Nutrition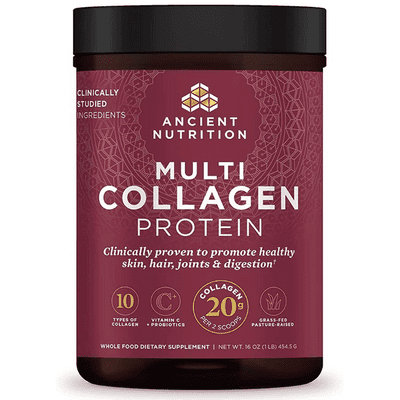 Best Gummie Collagen
Olly Collagen Gummie Rings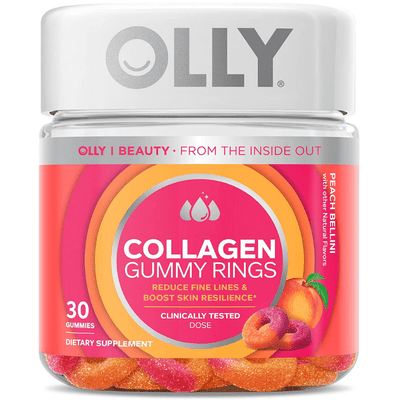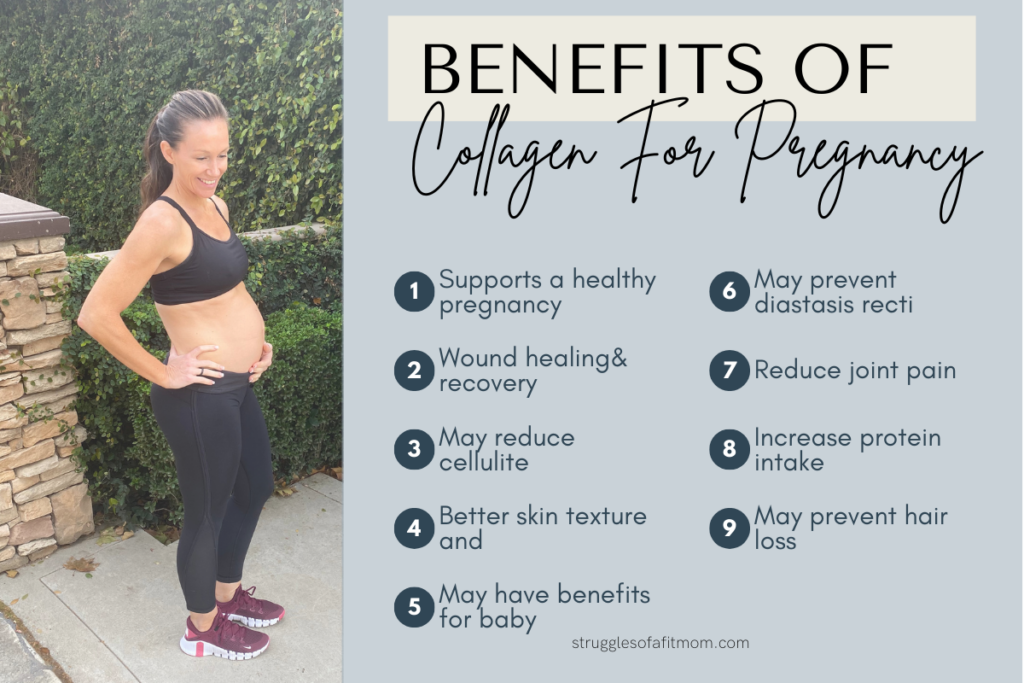 Is it Safe to Take Collagen When Pregnant?
Considering the above benefits of collagen during pregnancy, it is understandable why moms would want to continue their daily dose during pregnancy.
But is it safe?
Unfortunately there is very little research on collagen peptide supplements during pregnancy.
However, based on the research that has been done and the safety profile of collagen supplements, it is generally considered safe to take during pregnancy.
It is always recommended to consult with your doctor or healthcare provider before taking any supplement.
This is especially important if you are pregnant or breastfeeding.
If you are considering adding collagen peptides to your prenatal or postnatal supplement routine, make sure to look for quality sources with clean ingredients and minimal additives.
Where Does Collagen Come From?
There are several different types of collagen supplements including marine collagen, bovine collagen, and plant-based collagen.
Unfortunately, it is not possible to make a vegan collagen supplement because collagen is 100% animal-based.
A vegan supplement can help boost your own bodies ability to produce collagen but cannot provide it directly.
No matter which type of collagen supplement you choose, make sure to read the label for additional ingredients and confirm that there are no artificial colors or flavors added.
Other FAQ on Collagen During Pregnancy
Here are some other questions regarding collagen during pregnancy.
Are There Any Risks Or Side Effects Of Collagen?
Collagen supplements are generally considered safe, but as with any supplement, it is best to consult your doctor before taking one.
In some cases, people may be allergic or intolerant to bovine collagen and may experience digestive symptoms such as gas or bloating. Any potential side effects should be discussed with your healthcare provider.
How Should You Consume Collagen?
Collagen supplements come in either a pill or powder forms.
However, powders are typically more popular because of their convenience.
Because most collagen supplements are odorless and tasteless, you can add collagen powder to just about anything including:
Smoothies
Coffee
Yogurt
Water or Juice
Even oatmeal or cereal
Hydrolyzed collagen peptide powders are easy to blend into your favorite drinks or smoothies.
What Are Some Other Ways To Increase Collagen in My Diet?
If you are weary about a collagen supplement during pregnancy, here are some other food sources to increase your collagen intake without taking a supplement:
Do Collagen Lotions and Oils Prevent Stretch Marks?
Companies market their collagen lotions and/or oils to help prevent stretch marks but the truth is, collagen cannot be absorbed by the skin.
When applied on the skin surface, the molecules are too large to penetrate the skin.
These lotions and oils can provide hydration to the skin but they won't do much for stretch marks or wrinkles.
Boosting collagen from the inside out will give you the most benefit.
A Final Word On Collagen During Pregnancy
So, should you take collagen during pregnancy?
Collagen also plays a vital role in the postpartum healing process which makes it a great supplement to continue taking after pregnancy.
Just be sure to talk to your doctor first to make sure it's right for you.
I have taken collagen with my prenatal vitamins with all four of my babies and I can say with confidence that it has been a game changer not only in my skin, hair and nails but it has also helped me reach greater fitness goals by reducing joint pain, healing my postpartum body and helping with muscle recovery.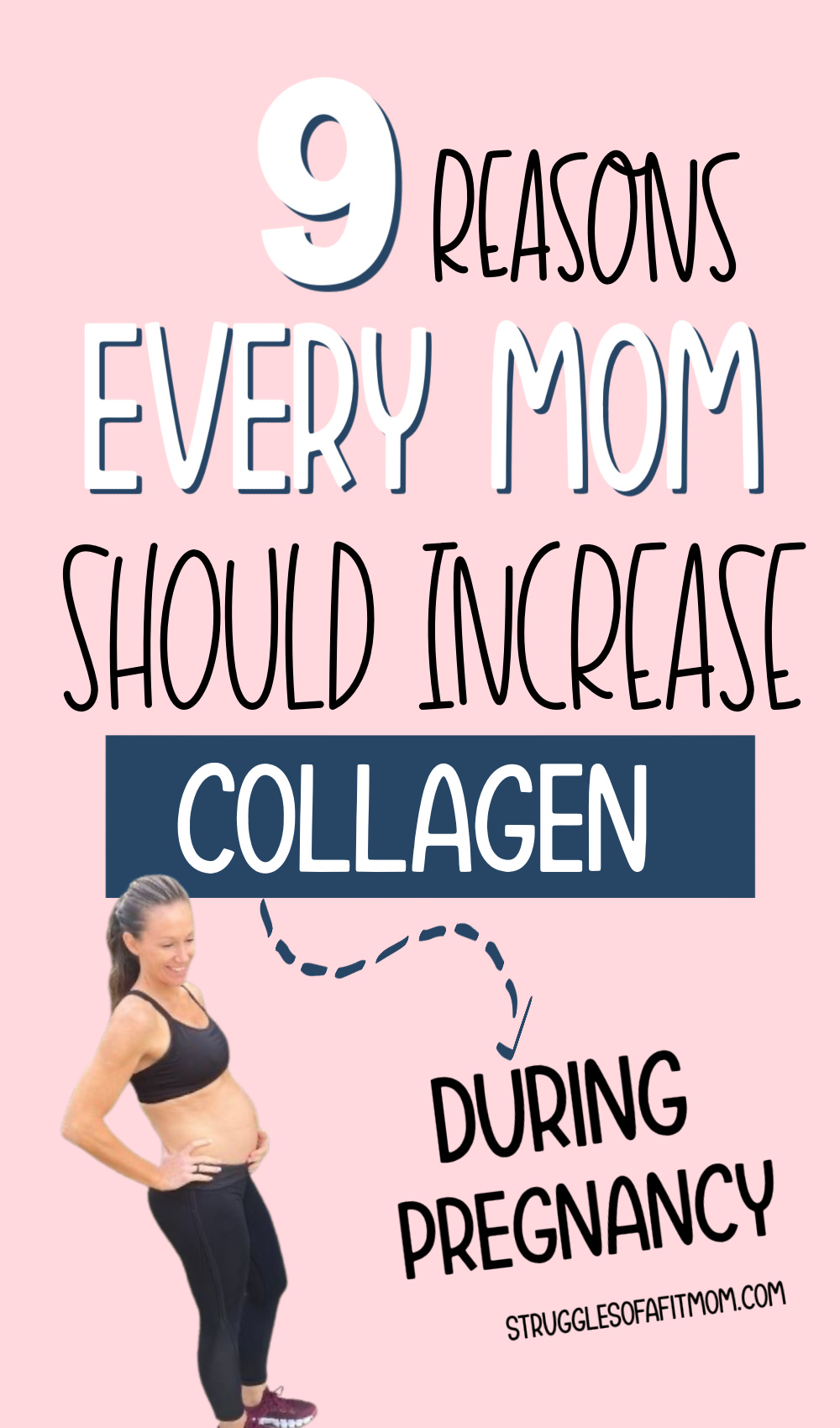 FACT CHECK

Struggles of a Fit Mom uses only high-quality sources, including peer-reviewed studies, to support the facts within it's articles. Read my editorial process to learn more about how I fact-check and keep my content accurate, reliable, and trustworthy.
Kominiarek MA, Rajan P. Nutrition Recommendations in Pregnancy and Lactation. Med Clin North Am. 2016;100(6):1199-1215. doi:10.1016/j.mcna.2016.06.004
Shoulders MD, Raines RT. Collagen structure and stability. Annu Rev Biochem. 2009;78:929-958. doi:10.1146/annurev.biochem.77.032207.120833
Reilly DM, Lozano J. Skin collagen through the lifestages: importance for skin health and beauty. Plast Aesthet Res 2021;8:2.
Collagen. (n.d.). Physiopedia. https://www.physio-pedia.com/Collagen
Bagchi D, Misner B, Bagchi M, Kothari SC, Downs BW, Fafard RD, Preuss HG. Effects of orally administered undenatured type II collagen against arthritic inflammatory diseases: a mechanistic exploration. Int J Clin Pharmacol Res. 2002;22(3-4):101-10. PMID: 12837047.
Baginski, Leon & Winter, Marc & Bailey, Thomas & Capobianco, Scott & Granese, Marsha & MA, Freddie & Miller, Kurt & Price, Kerry & Ramirez, Sara & Salcido, Craig & Turner, Frank & Toole, Mary. (2016). Response to Hydrolysed Collagen Protein Supplementation in a Cohort of Pregnant and Postpartum Women. Journal of Pregnancy and Child Health. 3. 10.4172/2376-127X.1000275.
Shi JW, Lai ZZ, Yang HL, Yang SL, Wang CJ, Ao D, Ruan LY, Shen HH, Zhou WJ, Mei J, Fu Q, Li MQ. Collagen at the maternal-fetal interface in human pregnancy. Int J Biol Sci. 2020 May 25;16(12):2220-2234. doi: 10.7150/ijbs.45586. PMID: 32549767; PMCID: PMC7294936.
Center for Food Safety and Applied Nutrition. (2022, October 26). Questions and Answers on Dietary Supplements. U.S. Food And Drug Administration. https://www.fda.gov/food/information-consumers-using-dietary-supplements/questions-and-answers-dietary-supplements
Baginski, L. M. W. (2016, September 30). Response to Hydrolysed Collagen Protein Supplementation in a Cohort of Pregnant and Postpartum Women. OMICS International. https://www.omicsonline.org/open-access/response-to-hydrolysed-collagen-protein-supplementation-in-a-cohort-ofpregnant-and-postpartum-women-2376-127X-1000275.php?aid=79903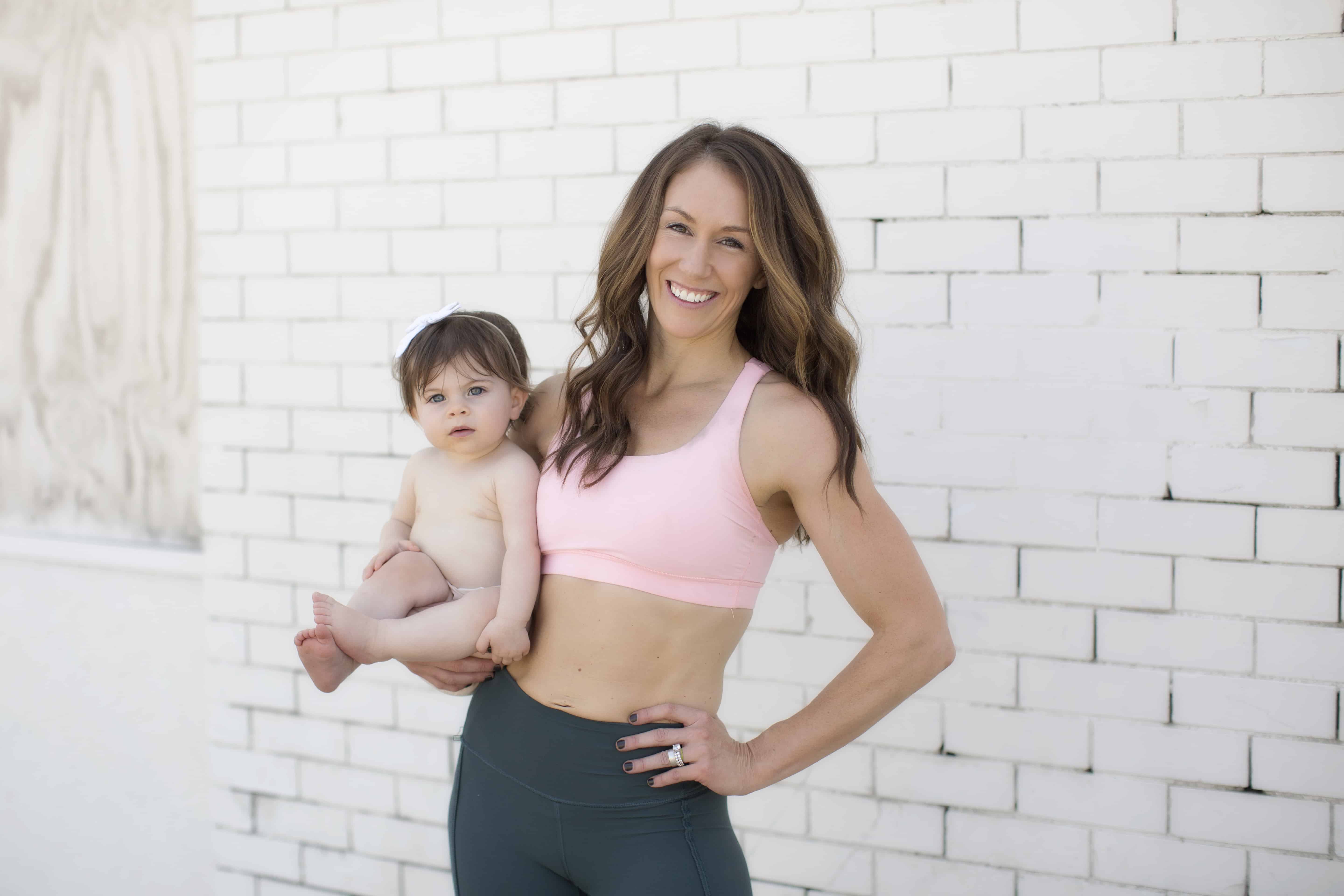 Brooke is a certified Prenatal and Postnatal Exercise Specialist with a Bachelors of Science degree in Kinesiology-Exercise Science. She is also a mom of 3 girls with more than 15 years of experience in health and fitness. Brooke's goal at Struggles of a Fit Mom is to help motivate, educate and inspire other busy mamas who struggle with finding time, energy and motivation to take care of themselves in the chaos of motherhood.