If you have been following me for long, you probably already know that HIIT training is my favorite method of working out. Not only are the workouts easier to squeeze into my hectic schedule but High Intensity Interval Training (HIIT) has given me the best results in the least amount.
When most think of HIIT workouts, they immediately think lower body, plyometric type exercises or cardio.
However, I love to incorporate HIIT into almost every body part workout I do.
Related: Tone In 10-Quickly Reshape Your Body in as Little As 10 Minutes a Day
As a busy mom, I don't have time (or let's be honest, patience) to do weight training and cardio separately.
Using specific work/rest ratios, I am able to combine both in the least amount of time with the greatest results!
When it comes to strength, most women would probably agree that their lower bodies are stronger than their upper bodies.
However, upper body strength is so important, especially as a mom who is required to carry car seats, diaper bags, toddlers and often times all at the same time.
Through my experience, most women tend to prefer training lower body over upper body and fear becoming "bulky" by training their upper bodies.

This fear of becoming bulky is very common but I will tell you exactly what I tell them.
As women, it is VERY difficult to put on enough muscle to look bulky. We just do not have enough hormones to achieve that type of muscle mass. Most of us also do not train like bodybuilder's who lift extremely heavy with long rests in between sets and rarely do cardio.
If you want a toned upper body, you will need to add resistance training either with weights or body weight exercises. I have found the best way to get lean, toned arms is to combine weights with high intensity interval training (HIIT).
By combining strength training and cardio exercises, you can lose fat and reshape your body at the same time without getting bulky!
Related: The Best 12 Minute Lower Body and Ab Home Workout
Don't Let Mom Guilt Stand in Your Way From Being Healthy, Strong & Confident!
I know first hand the guilt you may feel taking time to workout when you feel like you should be spending more time with your kids.
However, you can do both!
Workouts do not have to be long and time consuming to see results. In fact, many of my workouts, especially at home, are range from about 10-30 minutes depending on my girls attention spans.
As you can see in most of my images or videos, my three year old really enjoys joining my workouts and using her little toy dumbbell while I workout.
The best way to get your workout in without feeling guilty is let them join in with you. You can get them their own sets of play weights and let them pretend they are working out too.
Make it a game! Not only are you getting your workout in but you are also teaching them how to be healthy and active.
One of the greatest lessons motherhood has taught me is that our children learn much more from what we do than what we say.
Children naturally want to copy and mimic everything we do. They idolize us.
My husband always calls my three year old a "mini Brooke" because she constantly copies things I say or do. Just the other day, she grabbed her play computer keyboard and told me she was working on her blog.
She knows when I am at my keyboard, I am working on my blog. She sees every little thing I do!
So naturally, this gives me more motivation to be the best version of myself!
I have never forced my daughter to exercise with me and I never will.
Sometimes she grabs her toy dumbbell (which was used for a Halloween costume a couple years ago) and joins in on my workouts.
Other times she just helps me count reps or entertains me with her dance moves.
Either way, my girls know that mommy needs to squeeze in her workouts so that she can be healthy.
Remember, working out and making our own health a priority is NOT selfish!
20 Minute Full Body Toning Prenatal Safe Workout
This full body HIIT workout focuses on toning your shoulders, back and chest while incorporating full body movements to both blast fat and reshape your entire body at the same time.
This upper body focused workout is perfect for pregnant mamas, new mamas, busy mamas or anyone wanting to quickly tone and strengthen their entire body.
Don't forget to print the workout card to reference to later. You can also download it as a PDF and file it onto your computer for quick access when
you have time to squeeze in a little workout!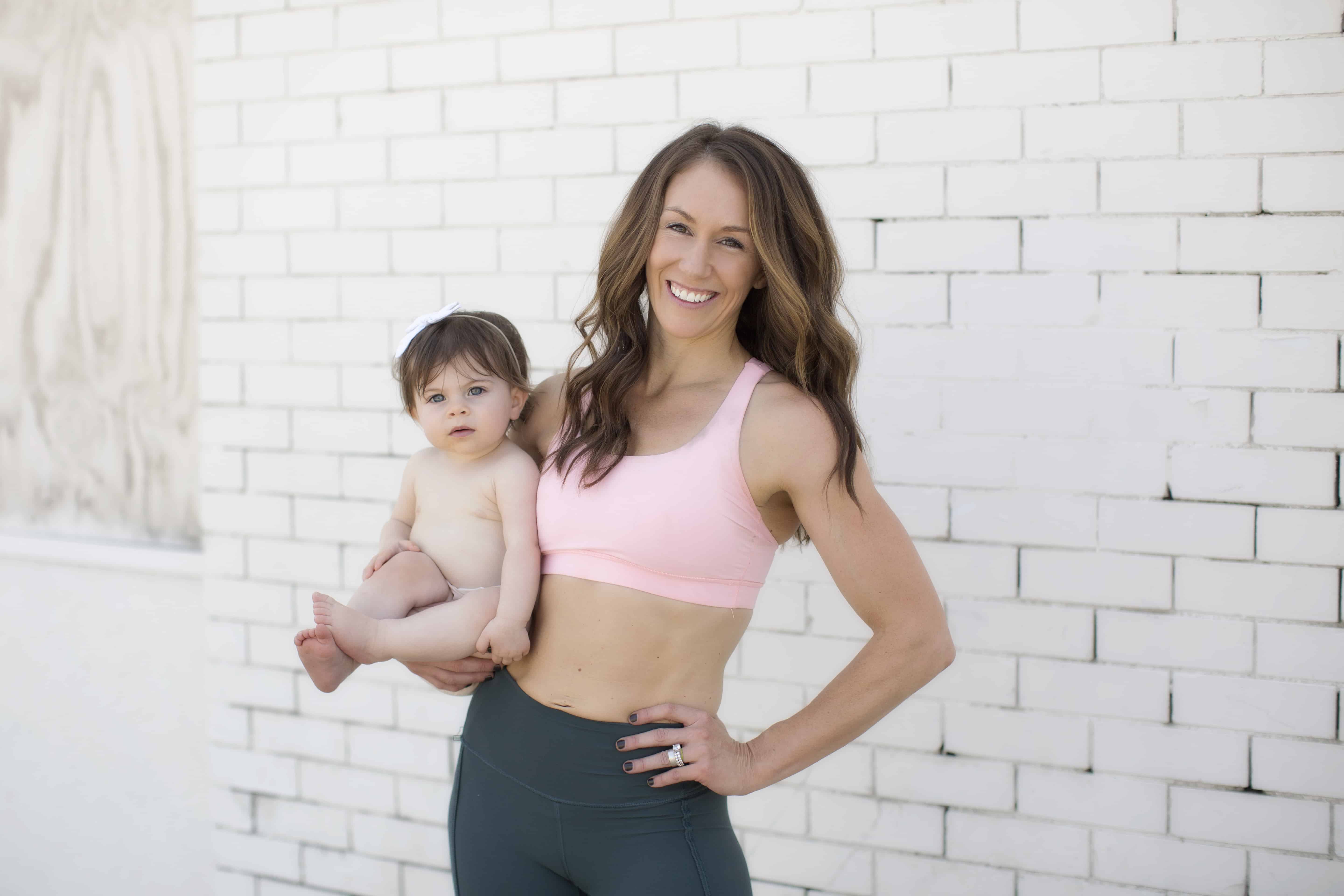 Brooke is a certified Prenatal and Postnatal Exercise Specialist with a Bachelors of Science degree in Kinesiology-Exercise Science. She is also a mom of 3 girls with more than 15 years of experience in health and fitness. Brooke's goal at Struggles of a Fit Mom is to help motivate, educate and inspire other busy mamas who struggle with finding time, energy and motivation to take care of themselves in the chaos of motherhood.