7 Best Stroller Exercises For Toned Legs
If you struggle with finding time to exercise as a busy mom, stroller workouts are one of the best ways to torch calories for overall fat loss as well as tighten and tone your lower body!
And stroller workouts are basically a sanity saver on wheels when everyone needs some fresh air!
The added weight from pushing your babies gently increases the intensity level of your workout to kick that calorie burn into high gear.
But I'm not talking just traditional stroller jogging workouts.
I mean specific exercises that help tighten and tone your lower body while blasting calories.
This has been one of my go-to workouts for months now and I love how it makes me feel challenged yet refreshed.
Sometimes squeezing in a workout as a busy mom requires some creativity but it doesn't have to feel impossible. Simply Move!
What Makes This Workout So Awesome?
The exercises in this workout target every muscle in your lower body.
The interval training helps to ramp up your calorie burn for fat loss while also building muscle to tone and tighten your legs.
The fresh air is great for soothing grumpy kids and stressed out moms!
The workout can be done in as little as 20 minutes
You don't need a fancy jogging stroller. Most strollers will work just fine but make sure to use caution if needed.
Safety Tips For Stroller Workouts
For you:
Keep your shoulders relaxed and back and try to prevent hunching over.
Focus on keeping your core engaged.
If you're wearing one baby while pushing another, make sure to use a sturdy baby carrier and you follow proper safety tips for babywearing.
Related: The Best Guide To Safe Babywearing Workouts
For your little ones:
Make sure they stay buckled in properly.
Avoid certain exercises that cause jerky movements such as running until your little one is about 6-8 months old and has good neck control. If you have any questions about whether your baby is ready for jogging in the stroller, make sure to consult with your healthcare provider.
Make sure they are kept cool in the summer and warm in the winter.
Bring them juice or water to stay hydrated, especially in the heat.
I personally avoid snacks during our stroller rides just in case they choke but this is an option if you feel comfortable.
Tips To Keep Your Little One's Happy During Your Stroller Workouts
One of the best tips to get your little ones used to your stroller workouts is to start them young! Your baby will get used to the routine and learn to enjoy the ride.
My kids are ages four and under and they have been doing stroller workouts with me since they were newborns!
You can start gentle stroller walks as soon as you feel ready after delivery.
Once they get a little older, keeping the occupied can be a little challenging.
So, what's the trick to keep them happy so you can finish your workout?
Keep them involved. This is a great time to teach them things like counting by having them count your exercise reps or learning songs such as ABC's or Old McDonald.
Listen to kids music and encourage them to sing along.
Bring flash cards. We have recently been bring these flash cards and it has been a lifesaver. (they are perfect because they have a ring so you don't lose any!)
Bring books and if they can't read, encourage them to make up their own story.
Make an "I Spy" game and have them look for things while you walk.
How To Do This Stroller Leg Workout For Tight and Toned Legs
Warm-up with a steady paced walk for about 5-10 minutes.
There are 7 exercises in this workout. Perform each exercise for the indicated number of reps back to back in a circuit.
Complete as many rounds as possible for 30 minutes.
Use given exercise modifications if needed!
Let's get sweaty!
When you're done, don't forget to pin this workout so you will have it forever!
I hope you like this workout as much as I do!
And remember, the best ways to teach your little ones to live a healthy, happy and confident life is if you show them by example!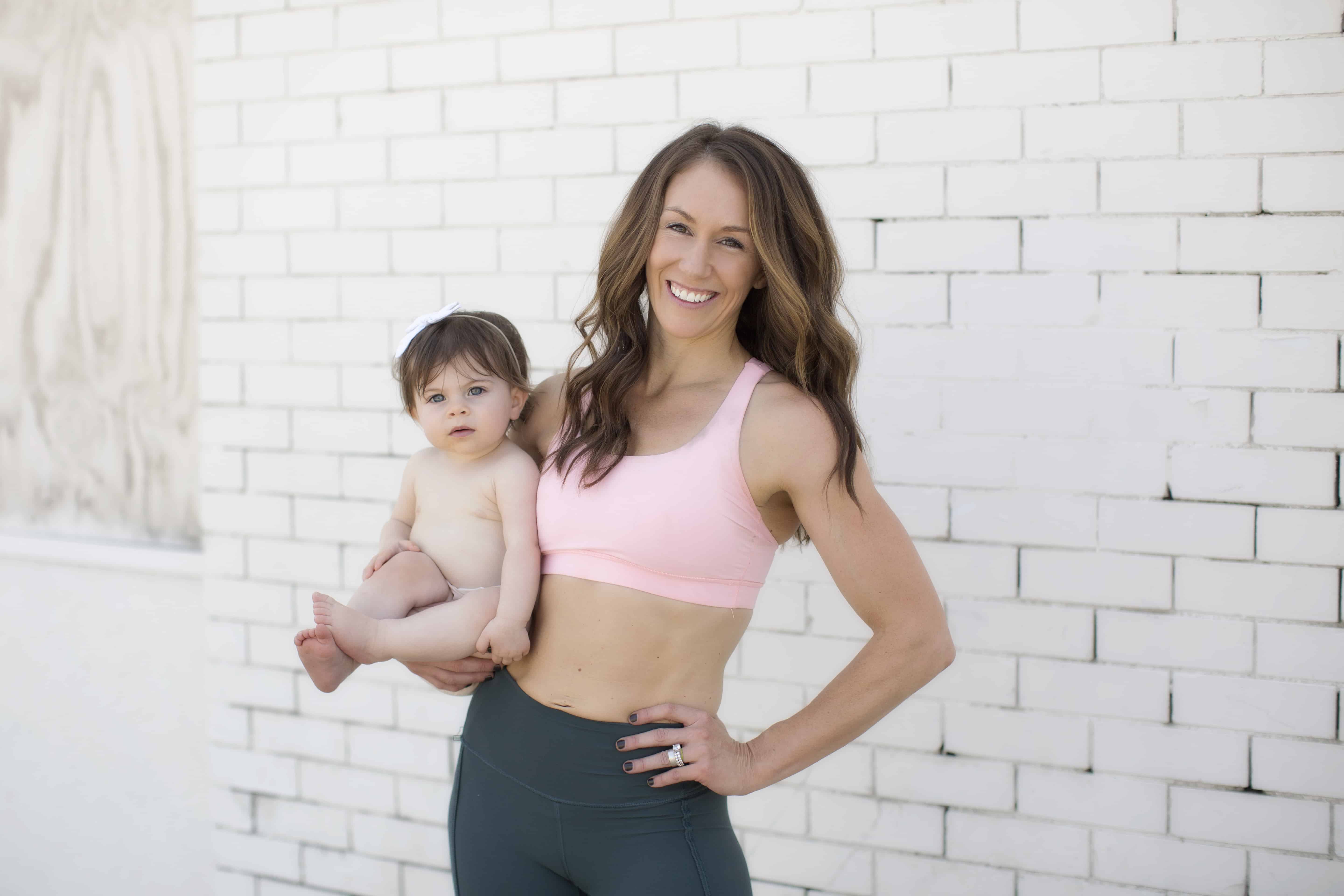 Brooke is a certified Prenatal and Postnatal Exercise Specialist with a Bachelors of Science degree in Kinesiology-Exercise Science. She is also a mom of 3 girls with more than 15 years of experience in health and fitness. Brooke's goal at Struggles of a Fit Mom is to help motivate, educate and inspire other busy mamas who struggle with finding time, energy and motivation to take care of themselves in the chaos of motherhood.