So, you are overwhelmed by clutter but unsure where to start.
Well I'm glad you're here!
Minimalism and decluttering have been hot topics lately.
And for good reason.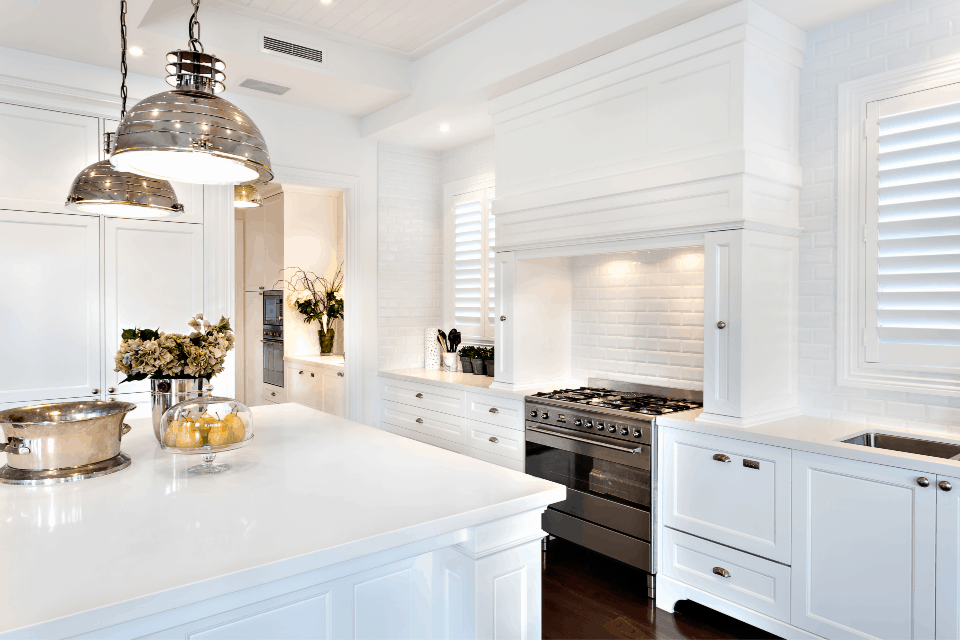 People are tired of not having time in their lives to enjoy the things that are most important like family, friends and self care.
Studies have shown time and time again that there is a relationship between the clutter in our homes and the weight on our bodies.
And lack of time is probably the number one most common struggles I hear from moms trying to lose weight and live healthier lives .
While it is impossible to create more hours in a day, I can teach you how to simplify your life so you can have more time for the things that matter most.
If we want more time in our days for things like exercise or preparing healthy meals, we simply need to make our lives more simple.
What You Will Learn
In this post, I share a list of things to declutter that anyone can tackle.
PLEASE do not feel obligated to get rid of everything on this list!
If you removed everything on this list, you would be left with nothing.
This is simply a guide to help you get started in decluttering your home.
It is meant to help you think about your relationship with the things you own.
There are many reasons we hold onto so many things and why we struggle to let them go.
So, without further ado, here is a 130 item declutter checklist to help you get started.
But First, Here Are Some Shocking Facts About Too Much Clutter in Our Homes
The average American wastes 55 minutes a day (roughly 12 days a year) looking for things they own but can't find. Newsweek
Over the course of our lifetime, we will spend a total of 3,680 hours or 153 days searching for misplaced items. The research found we lose up to nine items every day—or 198,743 in a lifetime. Phones, keys, sunglasses, and paperwork top the list (The Daily Mail).
One in seven Americans have a room in their home they cannot use because it is filled with things they rarely use.
Clutter can influence us to overeat and make poor food choices. npr.org
67% of people surveyed believe they could save up to 30 minutes a day if they were more organized. (Alpha Phi Quarterly study)
80% of the clutter in most homes is a result of disorganization, not lack of space
Less Clutter, Less Stress
Just imagine how peaceful and serene it would feel to walk into a tidy, organized home where everything had a spot and where you could relax without feeling like you were drowning in clutter– YOU can make that happen!
If you REALLY want to tackle your clutter and get more organized, Impactful Habits will change your life.
If you could use some help getting started with your organizing goals this course is for YOU!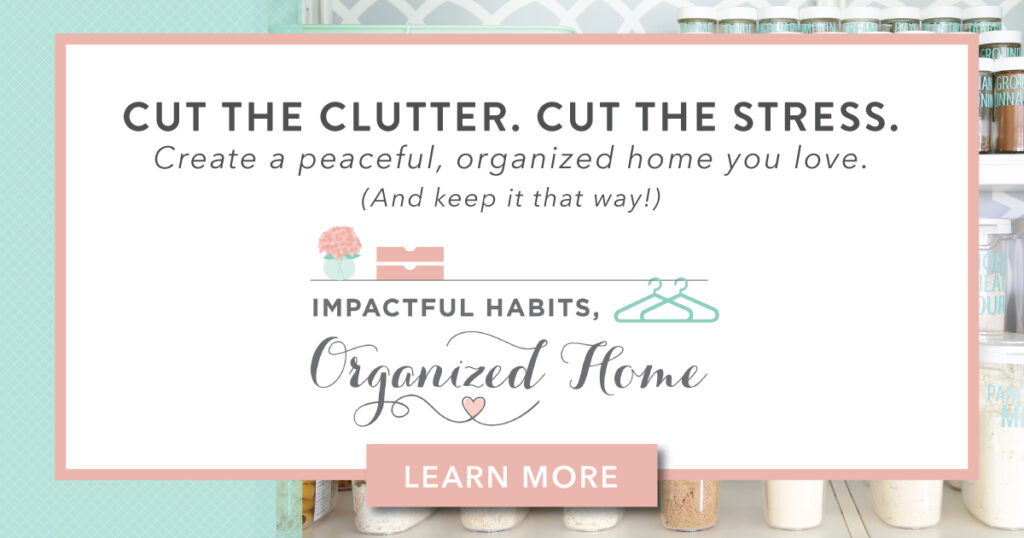 26 Things to Declutter From Your Kitchen and Pantry
Unused kitchen utensils– If you have a family of 4, you probably don't need 25 mismatched forks, 30 knives and 100 spoons. Keep just what you need and use. Less stuff means less dishes to wash and put away.
Chipped dishes- This is just hazardous. Someone could get cut or they are more susceptible to breaking!
Condiment packets– You don't need to get rid of all your condiment packets but you also dont need 500 of them from 5 years ago.
Cooking pans with scratched teflon– Scratched teflon is actually dangerous to cook with. Toss it!
Cutting boards– How many do you use?
Expired freezer items– They are expired which means not edible!
Expired items in your refrigerator
Expired spices/baking products– If you haven't used it in more than six months, replace it. Spices lose their flavor.
Kitchen gadgets– I recently decluttered my entire kitchen. I quickly realized that there is no reason for me to have three can openers, 5 wine bottle openers and 50 forks. There will never be more than one or two people opening cans at a time. I will also probably never have 50 people over at a time. And if we did, I would probably use plastic forks. Keep just what you use and let go of the rest. Ask yourself, do you really need 3 can openers, 10 spatulas and 100 missmatched forks?
Ladles and serving spoons
Extra kitchen glassware. How many will you use at one time?
Extra measuring cups and spoons
Mismatched Tupperware– Go through and toss all the Tupperware that doesn't have the matching lids. If you are ready to toss Tupperware overstock, go for it!
Old cookbooks– If unsure about tossing your cookbooks, take a picture of the recipes you love or want to try then get rid of it. Most recipes these days can be found online.
Old water bottles that don't have lids– Will you use it if it doesn't have a lid? Probably not!
Old/unused/never used dishes– pots, pans, baking sheets, casserole dishes. Are you ever going to use 20 casserole dishes at once?!
Plastic utensils– Unless you eat on the go, you don't plastic utensils taking up space
Old toddler cups– These often accumulate mold.
Old toddler plates, utensils– My kids want to use the same exact bowls and plates every single time they eat. So I got rid of everything else.
Unused coffee mugs– I only have a couple coffee mugs. I keep enough to have extra if my family is in town visiting but thats it!
Water pitchers– Think of How many you will actually use at one time?
Old/Expired Baking Goods– Most baking items like sugar and flour are inexpensive to replace.
Old Dessert Decorations– I am notorious for having a huge supply of sprinkles and frostings left over from parties. However, these things expire just like everything else.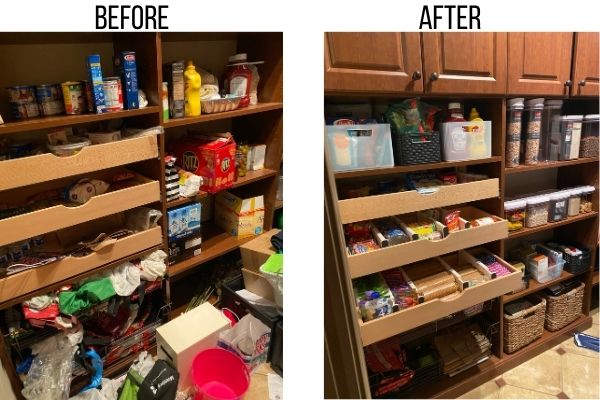 10 Things to Declutter From Your Bathroom
Broken or unused hair tools– Why keep it if it's broken?
Makeup– If you haven't used it in over a year, toss it. Makeup does have a shelf life.
| PRODUCT | WHEN TO TOSS |
| --- | --- |
| Powders (including blushes, bronzers, and shadows) | Two years |
| Cream shadows and blushes | 12-18 months |
| Oil-free foundation | One year |
| Cream compact foundation | 18 months |
| Concealers | 12-18 months |
| Lipstick and lip liner | One year |
| Lip gloss | 18-24 months |
| Pencil eyeliner | Two years |
| Liquid or gel eyeliner | Three months |
| Mascara | Three months |
Image from Popsugar.com
Old hair accessories– Trust me, you do not need 50 scrunchies, 200 rubber band hair ties and 15 claw clips! Keep what you love and donate the rest.
Old hair products- If you will never use it again because you didn't love it or found something better, then just toss it, donate it or give it to a friend to try.
Old lotions or perfumes you never use or are almost empty– Ugh, old bottles of these things drive me crazy! Keep in mind that products expire so make sure you are checking expiration labels.
Old nail polish-Check the texture of the nail polish. If it is thick, clumpy and is difficult to spread evenly, it's time to toss it.
Old Razors– Simple enough.
Old toothbrushes/toothpaste– I know some people like to save a few toothbrushes for cleaning but toss what you don't use.
Samples– Oh goodness, my bathroom used to be cluttered with so many samples that I NEVER used. Save some for your travel bag and toss what you don't want, need or did not like.
14 Things to Declutter From Your Closet
Nylons and tights– If you haven't worn them in years, get rid of them. Keep what you use.
Old clothes that don't fit and may never fit. Here is one of my favorite tips. When you wash your clothes, don't put them away where they usually go for a month or so. If you never wore any of the clothes in the closet, get rid of them!
Accessories you never wear
Shoes that don't fit or you don't wear– Your weight may fluctuate but your feet usually won't significantly change sizes. So let go of the shoes that don't fit. The only exception is pregnancy, my shoe size did change!
Old purses/totes you will never use– If you haven't touched it in 6 months to a year, consider letting it go
Unmatched or holey socks– these seem to accumulate quickly. Get rid of any socks that don't have a match and the ones with holes.
Unworn/unused ties, belts
Unworn/unused pants/shorts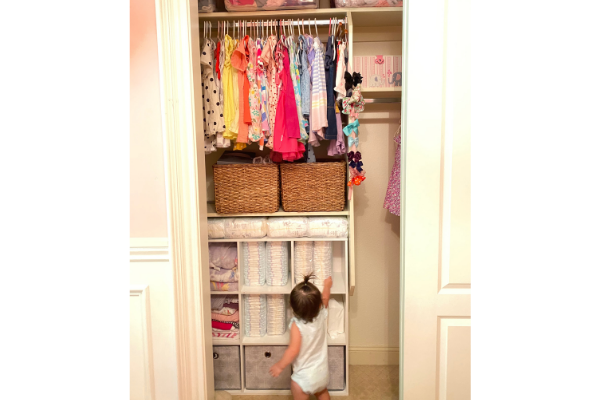 7 Things to Declutter From Your Linen Closet and Laundry Room
Old or unused blankets– Check your local animal shelter to donate these!
Bedsheets that never get used– I keep 1-2 sets of sheets per bed with the exception of the kids beds, I have three incase of accidents. If you want to keep a couple spare sheets for moving things, keep those stored separately in the garage.
Old/unused tablecloths and placemats– Sort out what you use and donate the rest.
Stinky or flat pillows– If you wouldn't let a guest use it, get rid of it!
Old, unused or stinky towels and washcloths– Keep enough for yourself and guests then donate the rest. Excess towels take up a lot of space.
House cleaners you don't use or like– If you are never going to use it, no point in saving it. You can donate what you don't use.
Old rags that have mildew– rags can easily be replaced. I bought a huge pack of these and they have lasted me FOREVER!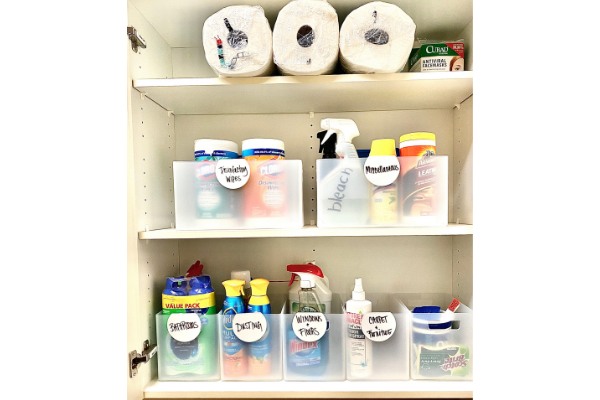 6 Things to Declutter From Your Arts/Crafts/Hobby Room
Books you have read- I would say the exception to this is non-fiction books that you may reference later. However, these days, almost everything can be found online. And while I love reading, I don't love storing every book I've ever read.
Dull scissors– If they don't work well, toss it!
Old/Unused sewing supplies
Scraps of paper-Recycle them
Unfinished Craft projects
Unused crafts supplies– yarn, fabric, ribbon, stamps
10 Things to Declutter From Your Kids Stuff:
Clothes they don't wear due to size or stains– If they can be donated or given to a friend, great! If not, just let it go.
Shoes that no longer fit– My kids shoes are rarely in good enough shape to give as hand-me-downs but that is always an option.
Toys they don't play with– Include your children in the process of donating their toys. Ask them to fill a box with things they'd like to donate to children who would really appreciate them
Books they have grown out of or no longer read– Books are such an excellent thing to donate.
Broken crayons– Broken crayons are also choking hazards if you have little ones like to put everything in their mouth.
Dry markers and highlighters- I often go through my girls markers and toss out the dried up or used up markers.
Old baby toys- If you are done having kids, these are great things to sell on Facebook Marketplace or Craigs list or Mercari
Kids memorabilia– I used to keep EVERYTHING from my kids. Now by the third child, I realized I don't need to keep every little thing they bring home. You could also scan your kids artwork, school projects and photos and turn them into a book using Shutterfly.
Unmatched or holy socks– these seem to accumulate quickly. Get rid of any socks that don't have a match and also the ones with holes.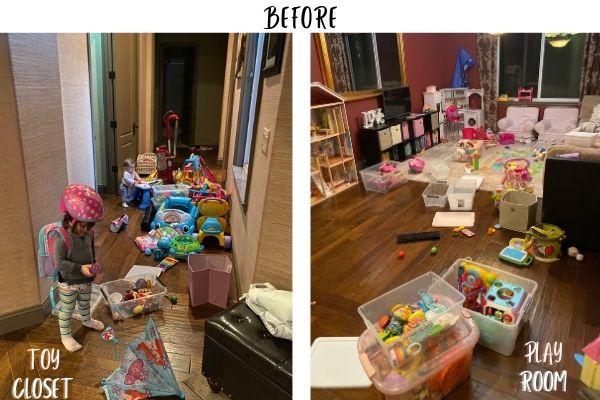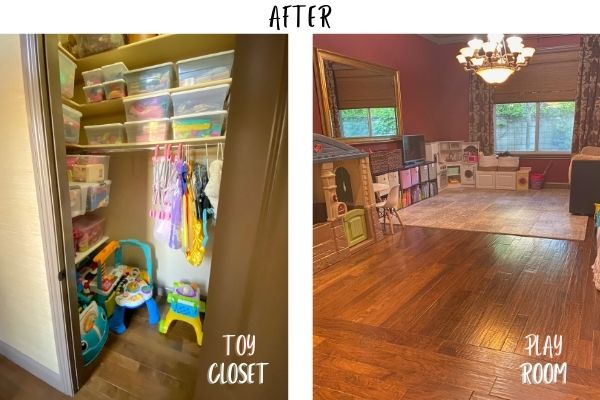 12 Things to Declutter From Your storage (the garage, attic, storage shed, spare bedroom …)
Broken baskets– they are broken, toss it
Glass vases from flower arrangements. For some reason, this is a tough one for many people. And for good reason. They represent the flowers that someone sent you in time of joy or struggle. However, they accumulate quickly and take up a lot of space. Snap a picture of your beautiful flowers for the memory and let go of some vases.
Broken or unused Holiday Decorations– Specifically broken ornaments, Christmas lights or things that never get used.
Faded or unused patio furniture– People are often looking for used patio furniture. This is a great item to sell online or hold a garage sale!
Memorabilia from past relationships– My husband and I both did this however, after a few years of dating, we realized there is no point in keeping it.
Old balloons or streamers from a special event- I am notorious for saving all the mylar balloons from my babies special events like their welcome home or welcome to the world balloons. However, now having three kids, saving multiple balloons from each child takes up way too much space. So instead, I cut a little piece of the balloon and put it in their baby box. I have plenty of pictures to look back on and see the balloons.
Old/unused or disliked candles– I've received a lot of candles as gifts that I did not like the smell. These are another great item to sell at a garage sale.
Old decorations you haven't used in years– If you haven't used it recently, you probably never will. If you cant find a realistic place for it in your home, donate it or try to make a little money at a garage sale.
Old Knick Knacks– These are challenging because they often carry a lot of sentimental value. However, if it is causing you more anxiety to store it, then maybe consider downsizing your knick knack collection.
Thank you notes and old cards– I used to have boxes and boxes of old cards and thank you notes. For me personally, it was just creating visual clutter. I saved a few of the ones with sentimental messages and tossed the rest.
8 Things to Declutter From Your Paper Piles
Magazines– With everything online now, there is no need to save every magazine you ever ordered. Donate them to doctors offices or toss them.
Old Calendars– They serve no purpose. Just make sure you have all your important dates written down. Here is what I use and keep in a binder.
Old newspapers– These just cause visual clutter. However, if you need them for projects or have other uses for them, store them in a nice container like this to reduce the visual clutter of loose papers.
Old paper announcements and letters– Write down the date and details then toss the flyer. Or take a picture of it in your phone then delete the picture when you no longer need it.
Old travel brochures– I know a lot of people like to save these as a representation of all the places they have traveled. However, you could scan these into a folder on your computer so you can look back on the memory without the physical clutter.
Receipts-Some receipts should be saved for tax purposes or items you may need to return. Otherwise, just toss them out. A lot of places these days are able to look up your transactions on the card you used to buy the products.
10 Things to Declutter From Garage/outdoors
Broken gardening tools- this one is tough for my husband because many of the things are expensive to replace. However, if it no longer works and will never work again, get rid of it.
Dead plants– These cause a tremendous amount of visual clutter
Dustpans/mops/brooms- How many do you have? How many will you use at once? Let go of the rest
Broken sports equipment– If it is not fixable, toss it. If you think you fix it, try immediately or let it go
Old umbrellas that don't work– they serve no purpose if they can't keep you dry!
Product boxes. These are often kept as "just in case you decide to move or sell the item". However, if/ when that time comes, put it in a different box!
Unused bicycles and/or helmets
Unused ladders or step-stools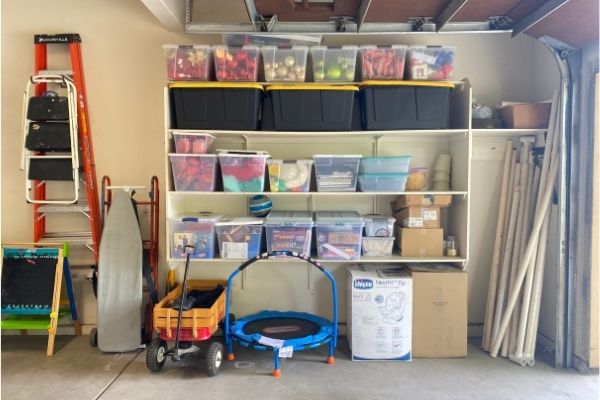 12 Miscellaneous Cords and Electronics Things to Declutter
Extra cords– Go through what you realistically need and let go of the rest.
Old CD players- Either donate it or put it in your time capsule.
Dead batteries– I recently started organizing my batteries and it has made all the difference in the world!
Old DVD's– My husband has a HUGE DVD collection that he NEVER watches. We decided to keep a few he loves and the rest are going in the donate box!
Old CD's you never listen to– If this one is tough for you, save a few of your favorites, take pictures for the memories of the others and add them to your donation box. There are much more clutter friendly ways to listen to music these days. You could even put a few in a time capsule box for you kids. That sounds fun!
Old cell phones– I suggest trying to sell them on eBay or just getting rid of them all together.
Old computers or computer equipment
Unused Audio or visual cables
VHS tapes– There are places that will transfer the video from the VHS to a CD. If you are afraid to lose what is on the VHS. However, if you know you are never going to watch the VHS, donate it! Or save a few for your time capsule box.
8 Things to Declutter From Your Car, Phone and Computer
Apps on your phone that you don't use
Files on your computer that are never opened
Your email list-unsubscribe (not mine of course…wink, wink!)
6 Random Things To Declutter
Expired meds– This is very important and very simple (Decluttler and organize your medicine cabinet)
Last years sunblock-Sunblock degrades over times
Old coat racks or storage shelving
Things that were free– My husband is the worst at collecting things simply because it was free. If that freebie doesn't bring you joy, let it go. Just because it is free, does not mean we need to keep it!
The Choice is Yours
No one can tell you exactly what to get rid of.
Just like I can't make someone workout after they have purchased my fitness programs.
I can, however, support, motivate and encourage them to get outside their comfort zones.
Keep in mind, we can not evolve or change when we fear change.
You must get a little uncomfortable to find your true comfort level!
So, what do you struggle with most when it comes to clutter?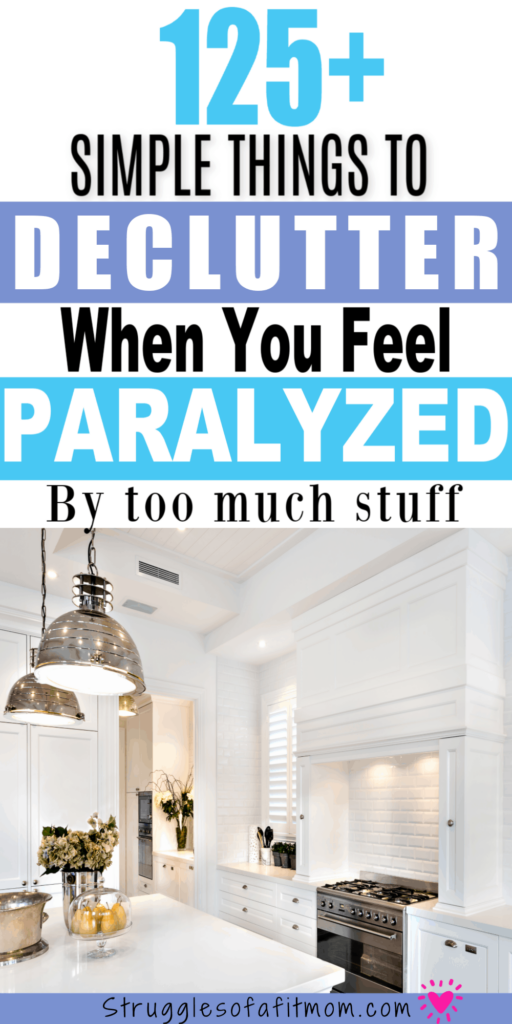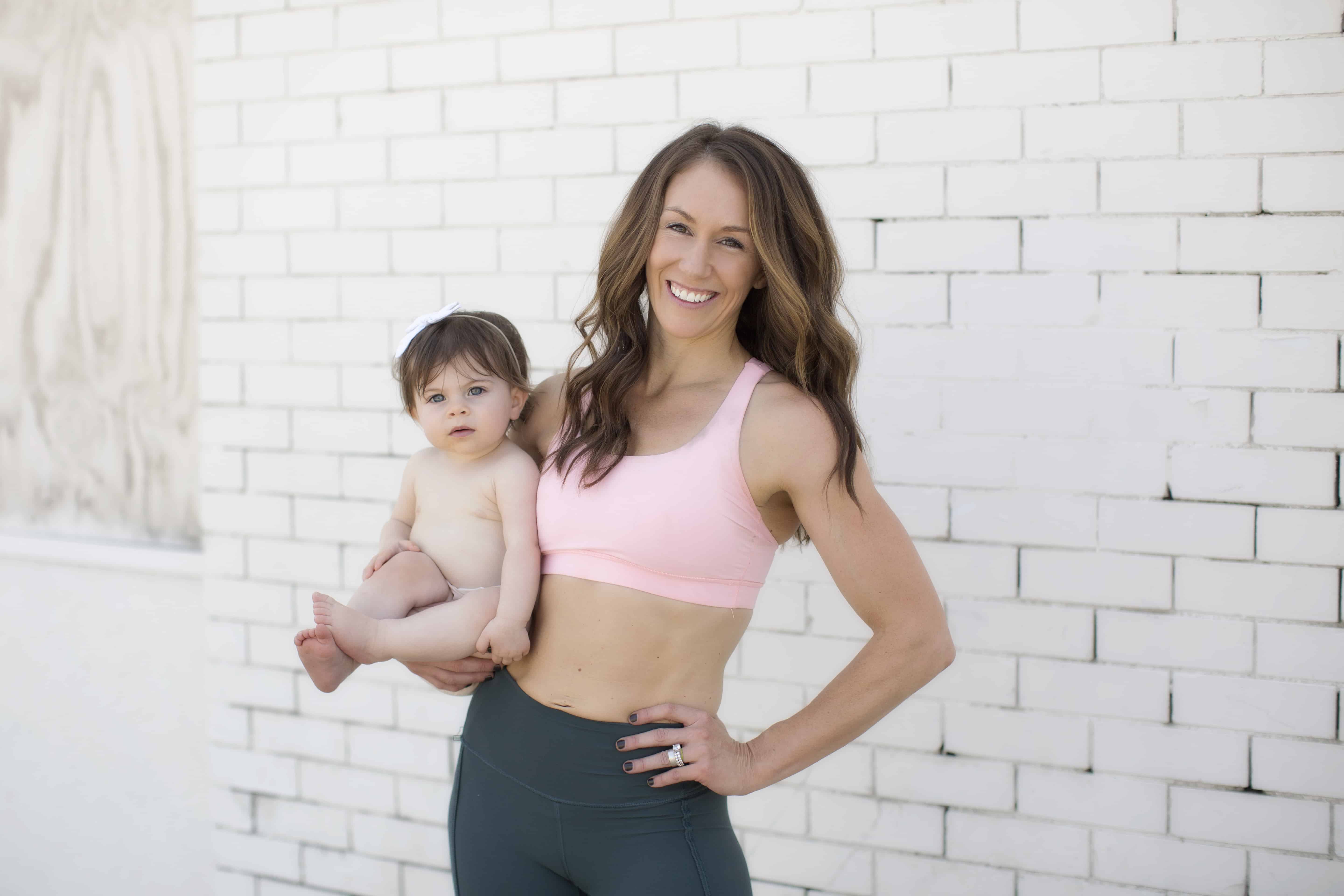 Brooke is a certified Prenatal and Postnatal Exercise Specialist with a Bachelors of Science degree in Kinesiology-Exercise Science. She is also a mom of 3 girls with more than 15 years of experience in health and fitness. Brooke's goal at Struggles of a Fit Mom is to help motivate, educate and inspire other busy mamas who struggle with finding time, energy and motivation to take care of themselves in the chaos of motherhood.