The Best 15 Exercises to Tone Your Legs During Pregnancy
(This post probably contains affiliate links. I receive a small commission at no cost to you through links shared on this website to help keep the information I provide free to you)
Are you pregnant and looking for the best exercises to keep your legs strong, toned and help carry the extra weight of your pregnancy?
Pregnancy can be a beautiful time, but as a mom of four, I know how challenging it can be.
One of the most common questions I get from pregnant moms is how to keep their legs strong and toned during pregnancy.
This guide will help you do just that!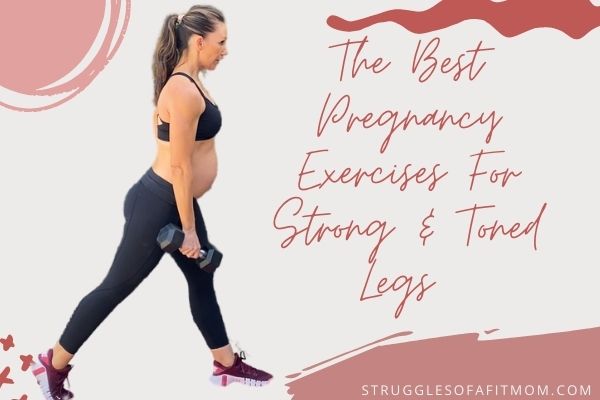 You'll learn how to use simple lower body exercises to help keep your legs strong, toned and provide support for the extra weight of your growing baby.
And remember – feeling good about ourselves helps us enjoy our pregnancies more than ever before!
So let's get started…
(Disclaimer: Although I am a certified prenatal/postnatal exercise specialist and personal trainer, I am not YOUR trainer. The content on this blog is for informational purposes only and should not be a substitute of the information and advice you receive from a healthcare professional.
Why Are Strong Legs Helpful During Pregnancy?
Your lower body holds some of the biggest muscles in your body.
Regularly practicing the right lower body exercises can strengthen the muscles that help support the extra weight of your pregnancy and minimize any aches and pains that come with pregnancy including back pain and pelvic pain.
Because your leg muscles are the largest in your body, they also burn the most calories.
This means maintaining or increasing lean muscle mass in your legs can help manage your weight during pregnancy and beyond as well as keep you pain-free.
Related: 15 Exercises For Instant Back Pain Relief During Pregnancy
Is it Safe to Do Leg Exercises During Pregnancy?
Prenatal exercise is considered safe AND recommended by the American College of Obstetricians and Gynecologists as long as you do not have any underlying health conditions or complications to your pregnancy.
Contrary to popular belief, physical activity does not increase your risk of miscarriage, preterm delivery or low birth weight babies. (source)
Always speak to your healthcare provider about your exercise program during pregnancy to make sure you are both on the same page.
With that said, there may be some situations when lower body exercises during pregnancy do not feel comfortable and you may need to modify movements but rest assured these exercises will not cause any harm to your baby!
Related: 10 Symphysis Pubis Dysfunction Exercises to Relieve Pregnancy Pelvic Pain
What Exercises Should Be Avoided During Pregnancy?
Although exercising during pregnancy is safe, there are some exercises that should be avoided or used with caution.
These include:
Exercises on Your Back For Extended Periods of Time
Avoid lying flat on your back for extended periods during the second and third trimesters.
This is because the weight of the uterus can compress major blood vessels and restrict blood flow to you and your baby.
While this is not something to be afraid of, but rather be aware.
Your body will tell you when it's time to change positions because you will feel lightheaded and dizzy.
Sit-ups or Traditional Core Exercises
Exercises such as sit-ups, crunches, leg lifts, or even Russian twists should be avoided during pregnancy, especially in the second and third trimesters.
These exercises place too much pressure and stress on the abdominal muscles as they grow and stretch to accommodate your growing baby.
This can weaken the core and it's ability to function properly to provide the support needed for your growing baby and for postpartum recovery.
There are much better exercises to strengthen your core both during and after pregnancy than
Related: To Plank or Not To Plank During Pregnancy? The Truth Behind This Popular Exercise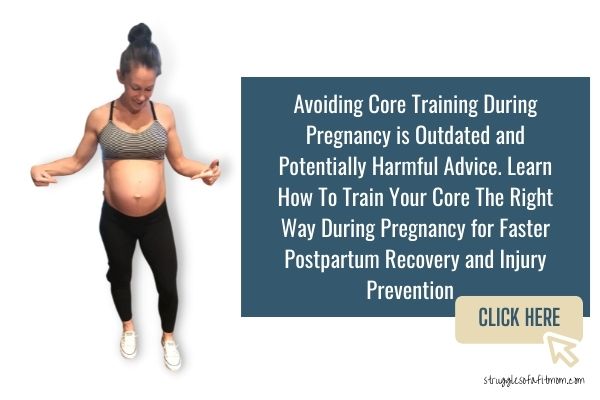 Exercising in Hot Temperatures
This includes things like Hot Yoga or other workouts that cause your internal body temperature to rise.
Movements That Require A Lot Of Balance
This will depend on your fitness level prior to pregnancy.
However, as your belly grows and body changes, you will find that your balance may be compromised with certain exercises.
To avoid falling or injury, avoid movements that make you feel too wobbly.
High Impact Exercises or Exercises That Cause Sudden Movement Or Twisting
Related: 20 Expert Tips To Stay Fit During Pregnancy
Can Thigh Exercises Help Reduce Cellulite?
Cellulite is caused by an accumulation of fat deposits under the skin.
It often forms dimples in the skin, which are most noticeable over the thighs, buttocks, and belly.
Performing muscle-building exercises for your legs can help build lean muscle mass, even during pregnancy, which can help improve the texture of your skin.
However, your body will naturally hold onto more body fat and fluid retention during pregnancy which can make it more challenging to reduce the appearance of cellulite.
Your best chance and reducing cellulite during pregnancy is to focus on healthy eating and staying active!
Related: Cellulite During Pregnancy: Debunking Unrealistic Expectations
Related: The Perfect Pregnancy Nutrition Plan
Can I Tone My Legs During Pregnancy?
This gets a little tricky.
To "tone up" actually means to build lean muscle mass and reduce overall body fat.
This is challenging during pregnancy because fat loss is difficult and often not recommended.
The extra body fat needed to support your pregnancy will make it more challenging to reveal lean muscle mass.
However, you should still focus on building strength in your legs which will help you with the everyday tasks of pregnancy such as standing, walking, or carrying a toddler as well as help with postpartum recovery.
And once you give birth and the body fat and fluid retaining pregnancy hormones disappear, you will be left with much stronger and more shapely thighs!
What Are The Best Leg Exercises During Pregnancy?
The best pregnancy leg exercises are those that will help you feel stronger and more supported during your pregnancy.
These exercises target the quadriceps, hamstrings, glutes and inner thigh.
You may notice that as your pregnancy progress, some exercises will become more challenging.
If something doesn't feel right for your body, there are plenty of modifications.
It is important to listen to your body and make adjustments to avoid discomfort but still help you maintain your prenatal fitness routine.
**As with any prenatal workout, please make sure you speak to your healthcare provider!
Squats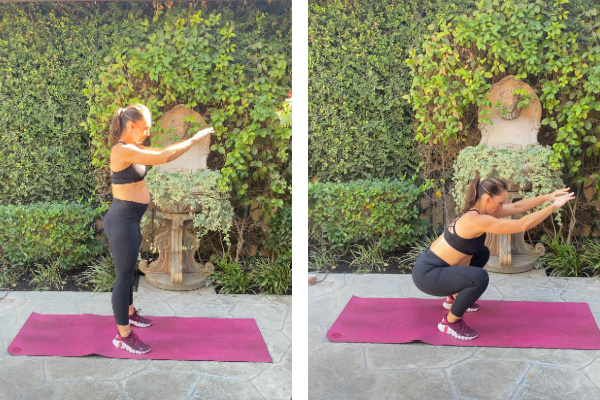 Begin with your feet shoulder-width apart or a little wider with your toes straight or slightly turned out, whichever feels right for your body.
Inhale and on the exhale, engage your core and connect your pelvic floor.
Slowly lower your bottom as if you are going to sit into a chair, keeping the weight in your heels and your knees in line with your toes, not caving in.
At the bottom of the squat, pause for a breath, then press through your feet to return to the starting position, keeping that light connection through your pelvic floor and low belly to complete one rep.
You can place a chair behind you for guidance or modification.
Related: 12 Best Squat Exercises During Pregnancy for Strong Legs
Split Squats
Split squats are a great single-leg focused exercise but they can get a little challenging late into the second trimester and third trimester as your balance and center of gravity changes.
You can use something like a broomstick or a wall for support.
Here are two variations:
Bulgarian Split Squat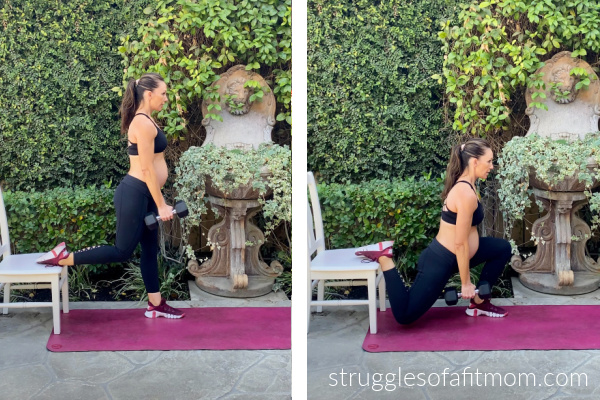 Begin by standing about 2 feet in front of a bench or sturdy chair.
Grab a pair of dumbbellsand shift your weight to your right foot, lift your left leg and place it on the surface behind you. (you can also do this without weights).
You may need to hold onto a wall or use a broomstick for extra support.
Engage your core, squeeze your glutes, and slightly lean forward at the waist.
Descend down into a single-leg squat The weight of your body should be in the heel.
Stop when your thigh is a little lower than parallel to the floor or as far as your flexibility allows.
Push through your left heel to engage the glute and return to the starting position.
After you complete all reps on your right side, switch to your left leg.
Standing Split Squat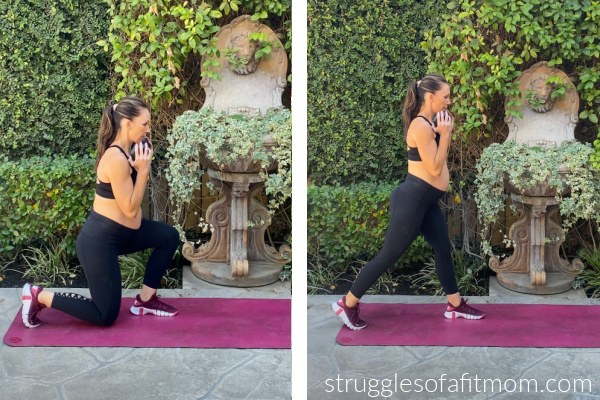 Take a large step back with your left foot and place it on the ground behind you. The heel of your back foot should be lifted off the ground.
Engage your core and keeping your upper body straight, lower your body down until your back knee almost touches the floor then press through the heel of your right foot to stand.
Complete all reps on one side before switching to the right side.
Sumo Squats
This exercise works the inner thighs, glutes, and quads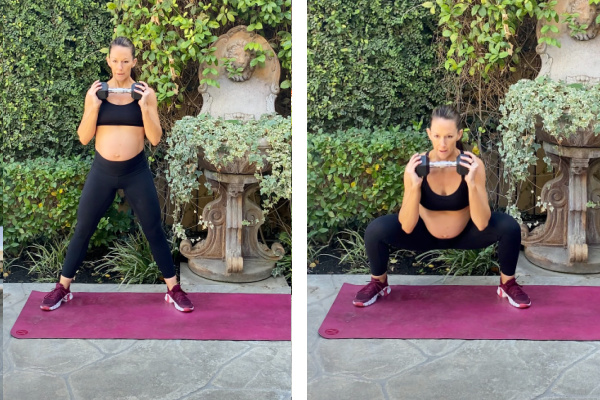 Start by standing with your feet wider than shoulder-width apart, toes slightly pointing out. You can place your arms at your sides, out in front of you are holding onto a weight at your chest.
Engage your core and keeping your chest up, begin to bend your knees to lower your body into a squat position. Focus on pushing your hips slightly back and down as you lower until your thighs are about parallel to the ground.
Keeping your chest up and core engaged, push your hips back, bend your knees, and lower your body until your thighs are at least parallel to the floor.
Pause, and then return to the starting position.
Walking Lunges
Targets the quads, glutes, core and hamstrings.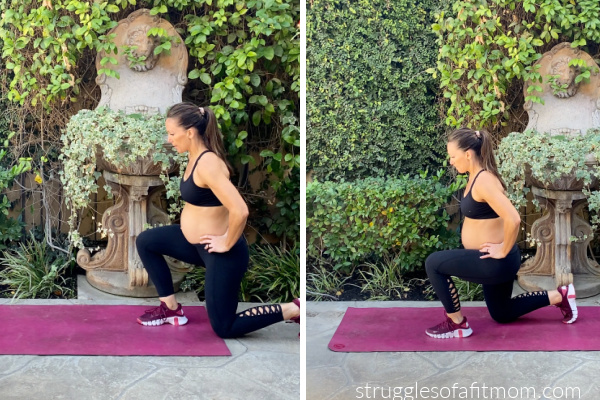 Start standing with your feet together. You can hold dumbbells or place your hands on your hips.
Begin moving in a forward direction by stepping your right leg forward and planting your foot on the ground in front of you.
Bend your right knee (front knee) and lower down so that your thigh is parallel with the ground. Your left knee should also be slightly bent and hovering just above the ground.
Press through your right heel as you push off your back foot to straighten your legs, bringing the back foot forward into a lunge position on the opposite side.
Continue walking forward, lunging with alternate legs to complete your reps.
Romanian Deadlift
Deadlifts are a great exercise to build muscle and strength in the glutes, legs and lower back which helps prevent posture problems and back pain.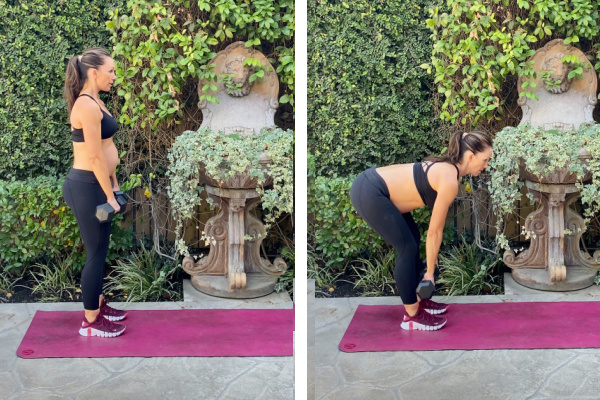 Stand with your feet hip-width apart, holding a pair of dumbbells in front of your thighs with an overhand grip.
Engage your core and inhale, keeping your back flat and shoulders back (not hunched forward).
Push your hips back behind you as your hinge forward at the waist as you lower your torso until its about parallel to the floor and/or you feel a deep stretch in your hamstrings.
Pause at the bottom and engage your glutes and hamstrings to lift your body to the starting position.
Stability Ball Hamstring Curl
This is a more advanced movement that targets the core, glutes and hamstrings.
This exercise might not be comfortable for you later in the second trimester and third trimester.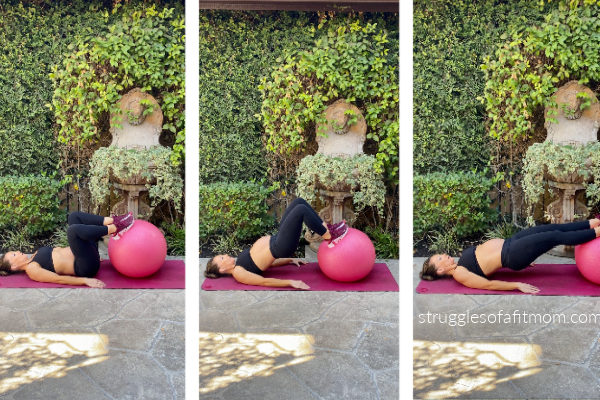 Begin by carefully lowering to your side then onto your back with both feet planted on top of an exercise ball.
Rest your hands on the ground next to you for more stability.
Engage your core and press your feet into the ball to engage your glutes and lift your hips up off the floor.
Maintaining this elevated position, extend your legs out then pull the ball back toward your glutes. This is one rep.
Continue rolling the ball in and out while keeping your core engaged and lower to rest when needed.
Complete for the total number of reps.
Hip Thrusts
Hip trusts primarily target the glute muscles.
Glute strength is compromised during pregnancy because of posture changes.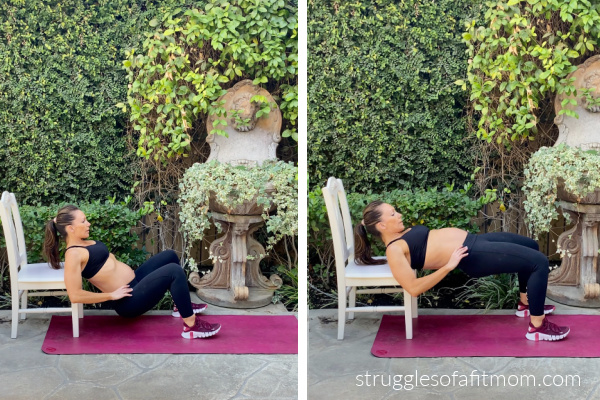 Begin sitting on the floor with your shoulder blades pressed against a bench or chair. If the surface is too high, you may need to start with your bottom slightly lifted off the ground.
Place both feet flat on the floor in front of you so that your knees are about 90 degrees.
Inhale and on the exhale, engage your core and squeeze your glutes to lift your hips up off the ground. Your body should form a straight line from your shoulders to your knees. It is very important not to hyperextend your lower back at the top and this is accomplished by good core engagement.
Slowly lower your hips back toward the floor and repeat.
Related: 17 Postpartum Glute Exercises To Transform Your Mom Butt
Glute Bridge
This exercise works the same muscles as the hip thrust but may be a little more accessible for some pregnant moms.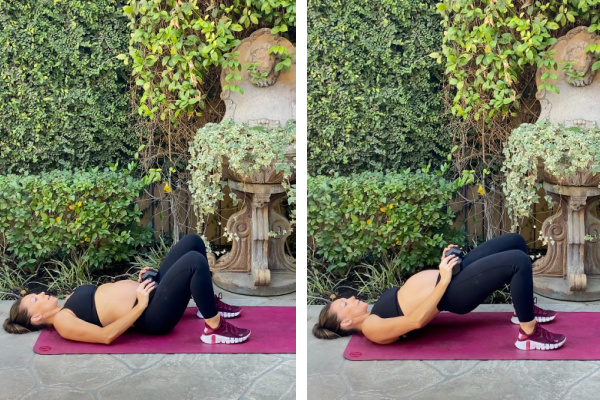 Begin on your back with your arms straight at your sides.
Bend your knees and place your feet on the floor.
Inhale and on the exhale, engage your core and press through the floor to squeeze your glutes and lift your hips to form a straight line from your knees to shoulders.
Hold this top position, then slowly lower back down.
Continue to complete the reps or interval.
Reverse Lunge
The reverse lunge is similar to the walking lunge but places more emphasis on the glutes.
If you have any pubic bone pain, this exercise may be more accessible than walking lunges.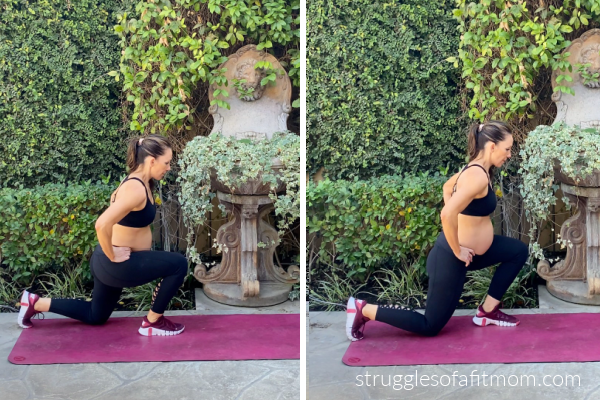 Start with your feet together and engage your core muscles.
Take a large step backward with your left foot and bend your right knee to about an 90 de90-degreel. Lower until both thighs are parallel to the ground.
Push through your left foot to bring your right foot back to center.
Focus on keeping your torso upright and core engaged. You can hold dumbbells for an added challenge or use a small step stool to create a deficit reverse lunge.
You can alternate legs or complete all reps on one side before switching sides.
Related: 10 Symphysis Pubis Dysfunction Exercises to Relieve Pregnancy Pelvic Pain
Step-Ups
For this exercise, you can use a sturdy chair, bench or step stool.
Start by placing your left foot onto a sturdy bench or chair.
Engage your core and press through your left heel as you step up onto the bench. You can bring your left foot to meet your right foot or drive the left knee upward toward your chest.
Slowly lower back down, to the starting position, keeping the top leg on the chair to complete all the reps before moving to the next leg.
Repeat on the right side.
Lateral Lunge
This exercise is great for targeting the inner thigh and glutes.
You may find that holding onto the back of a chair is helpful for balance and support.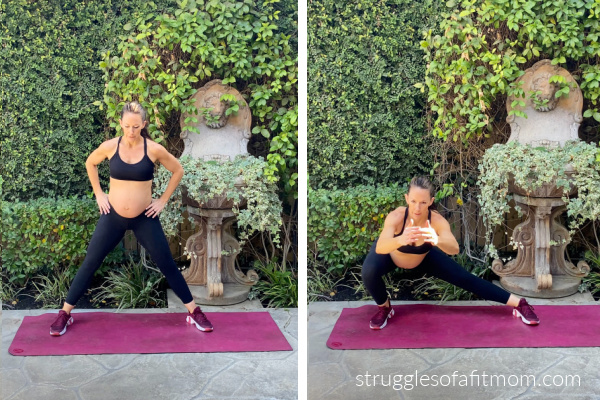 Start by standing with your feet together.
Engage your abdominal muscles and take a large step to the side your right leg, keeping your left leg straight.
Keep your spine neutral and push your hips back and lower your butt until your knee is about 90 degrees.
You can keep your arms out in front of you or reach down and touch your toe with your opposite hand.
Kneeling Squats
Kneeling squats are a great option for beginners who struggle with hip extension or just anyone wanting to activate and strengthen their glutes.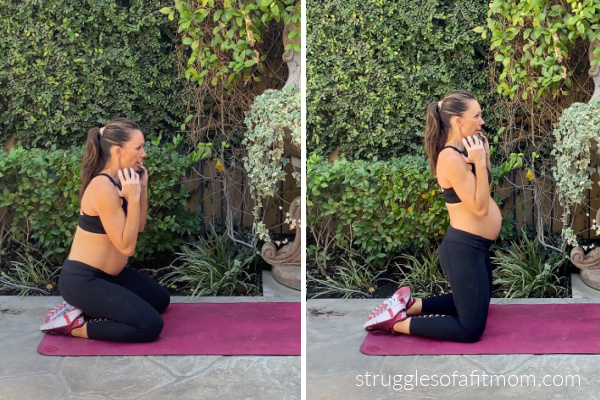 Begin on the floor kneeling position with your knees slightly wider than hip width apart and feet in line with your knees. The top of your foot should be resting on the floor.
Clasp your hands together in front of you or hold a dumbbell.
Engage your core and using your glutes, begin lifting your body off your legs until your body is straight. Focus on keeping your glutes and core engaged.
On an inhale, slowly lower your glutes back toward your heels.
Once you have reached your heels, squeeze your glutes to drive your hips back up to the starting position. The movement up is all in the glutes.
Goblet Squat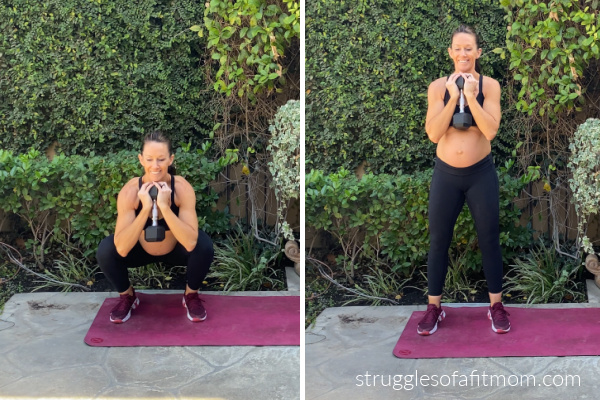 Start in a squat position holding a dumbbell or slightly heavy object at your chest.
Take a deep breath, engage your core and pelvic floor and descend down pushing your hips back as you bend your knees. Imagine you are trying to drop your back pockets toward your heels.
Once your thighs are parallel to the ground or slightly lower, exhale and press your feet through the floor to stand.
3 Pregnancy Leg Workouts To Keep Your Legs Strong and Toned
Now let't put all those exercises into some great workouts!
These are three of my favorite leg workouts and exercise combinations.
It is always a good idea to warm up with some core work to help support your workouts.
Recommended Equipment:
Workout #1
Exercise
Reps
Superset #1
3 sets each exercise
Goblet squats
Deadlifts
Glute Bridge
15
15
15
Superset #2
Single Leg Hip Thrust Rt Leg
Single Leg Hip Thrust Left Leg
Reverse Lunge Rt Leg
Reverse Lunge Left Leg
15
15
15
15
Set #3
Walking lunges
One Set of 50
Workout #2
Exercise
Reps
Superset #1
3 sets each exercise
Sumo Squats
Hip Thrusts
15
15
Superset #2
Bulgarian Split Squat Right Leg
Bulgarian Split Squat Left Leg
Step up Right Leg
Step Up Left Leg
15
15
15
15
Set #3
Kneeling Squats
Stability Ball Hamstring Curls OR
Deadlifts
15
15
Workout #3
This is a ladder workout.
Exercise
Reps
Ladder Workout
Sumo Squats
Single Leg Hip Thrusts Right Leg
Single Leg Hip Thrusts Left Leg
Lateral Lunge Right Leg
Lateral Lunge Left Leg
Bulgarian Split Squat Right Leg
Bulgarian Split Squat Left Leg
Deadlifts
Walking lunges

Start with either 10 or 12 reps of each exercise then work your way down to 1 rep.

Time yourself and try and try to beat that time for another workout.
More Frequently Asked Questions About Leg Exercises During Pregnancy
Can I Do These Leg Exercises During Pregnancy If I've Never Exercised Before?
Yes!
If you are new to exercise or have been sedentary for some time before your pregnancy, consult with your doctor or healthcare provider before starting any workout routine.
However, prenatal exercise is healthy and recommended in normal and uncomplicated pregnancies.
Begin with as little as 5-10 minutes a day.
Each week, add five minutes until you maintain 30 minutes of exercise a day.
Just be sure to start slow and listen to your body! (source)
How Often Should You Train Your Legs During Pregnancy
How often you train your legs during pregnancy will likely depend on your fitness level prior to becoming pregnant, your current fitness level during pregnancy, and if there are any restrictions to your pregnancy.
I recommend pregnant women train their legs 2-3 times a week for 20-30 minutes or as tolerated.
However, if you feel sore, tired or experience any aches and pains such as Symphysis Pubis Dysfunction, then you may have to adjust your leg workouts.
Can I Lose Thigh Fat During Pregnancy?
I do not recommend focusing on fat loss during pregnancy.
Instead, focus on building strength through consistent exercise which will give your legs a more toned and solid appearance.
Remember, your body is smart and wants a little extra body fat for your growing baby!
If you need to lose a little weight during pregnancy, or prevent gaining too much weight, there are a few things you can do.
Related: Fat Loss During Pregnancy: 13 Expert Tips To Do It Safely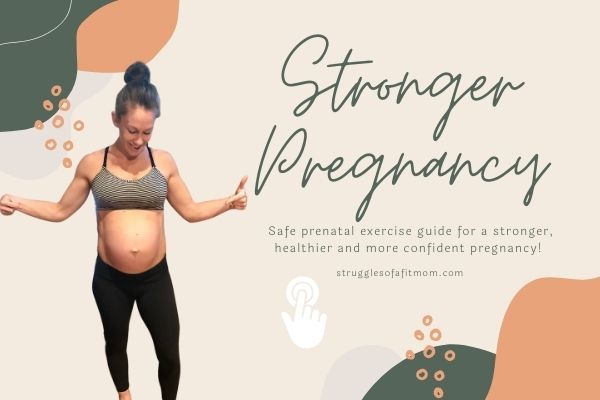 Why Does My Pubic Bone Hurt When I Exercise?
If you experience any pelvic or pubic pain with leg exercises, you may have something called Symphysis Pubis Dysfunction.
This is a condition during pregnancy in which the pubic bone becomes less stable and causes more movement in a joint called pubic symphysis.
It can be triggered by certain exercises or movements that reguire the legs to seperate.
During pregnancy, there are exercises you can do to help minimize the pain and discomfort but it usually resolves after your baby is born.
Related: 10 Symphysis Pubis Dysfunction Exercises to Relieve Pregnancy Pelvic Pain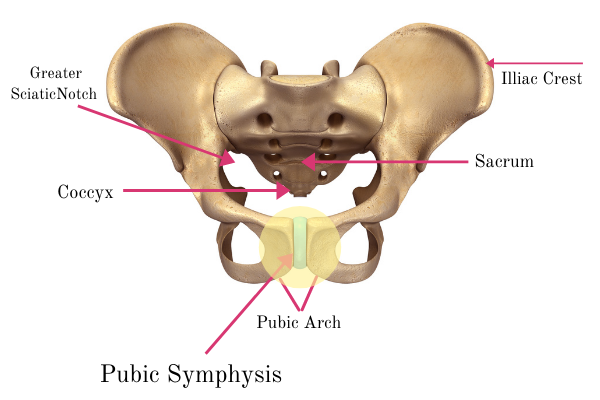 Final Thoughts On The Best Leg Exercises For Pregnancy
Regular exercise during pregnancy will not only help you feel great by reducing hip and back pain, but also make it easier to bounce back postpartum.
Focusing on staying strong rather than controlling your body's appearance will help you stay much more motivated and consistent with your prenatal workouts.
My prenatal exercise motto is "just keep moving" and "something is always better than nothing"
For more prenatal fitness tips and workouts, check out this page all about prenatal exercise!
Enjoy your free pregnancy workout guide here!
This information on this website is is for informational purposes only and should not substitute the advice from your doctor or healthcare provider.
FACT CHECK

Struggles of a Fit Mom uses only high-quality sources, including peer-reviewed studies, to support the facts within it's articles. Read my editorial process to learn more about how I fact-check and keep my content accurate, reliable, and trustworthy.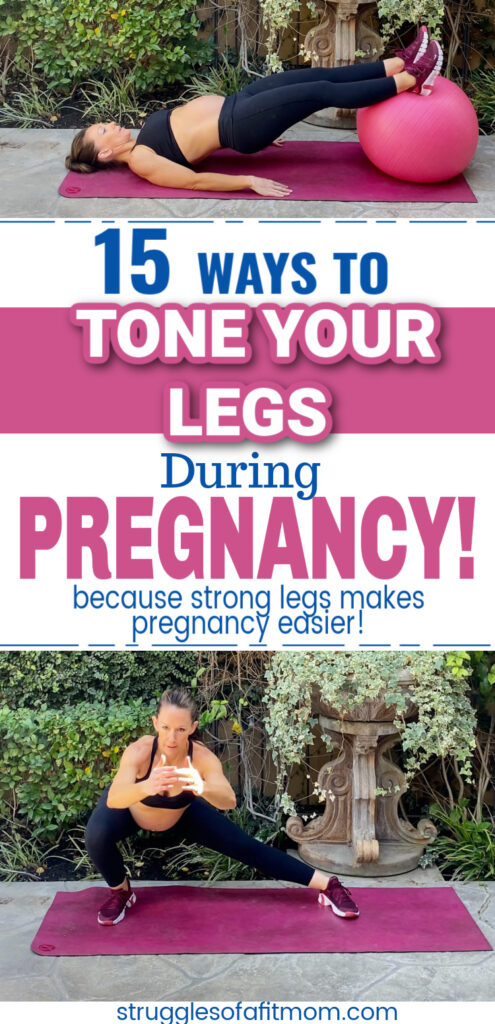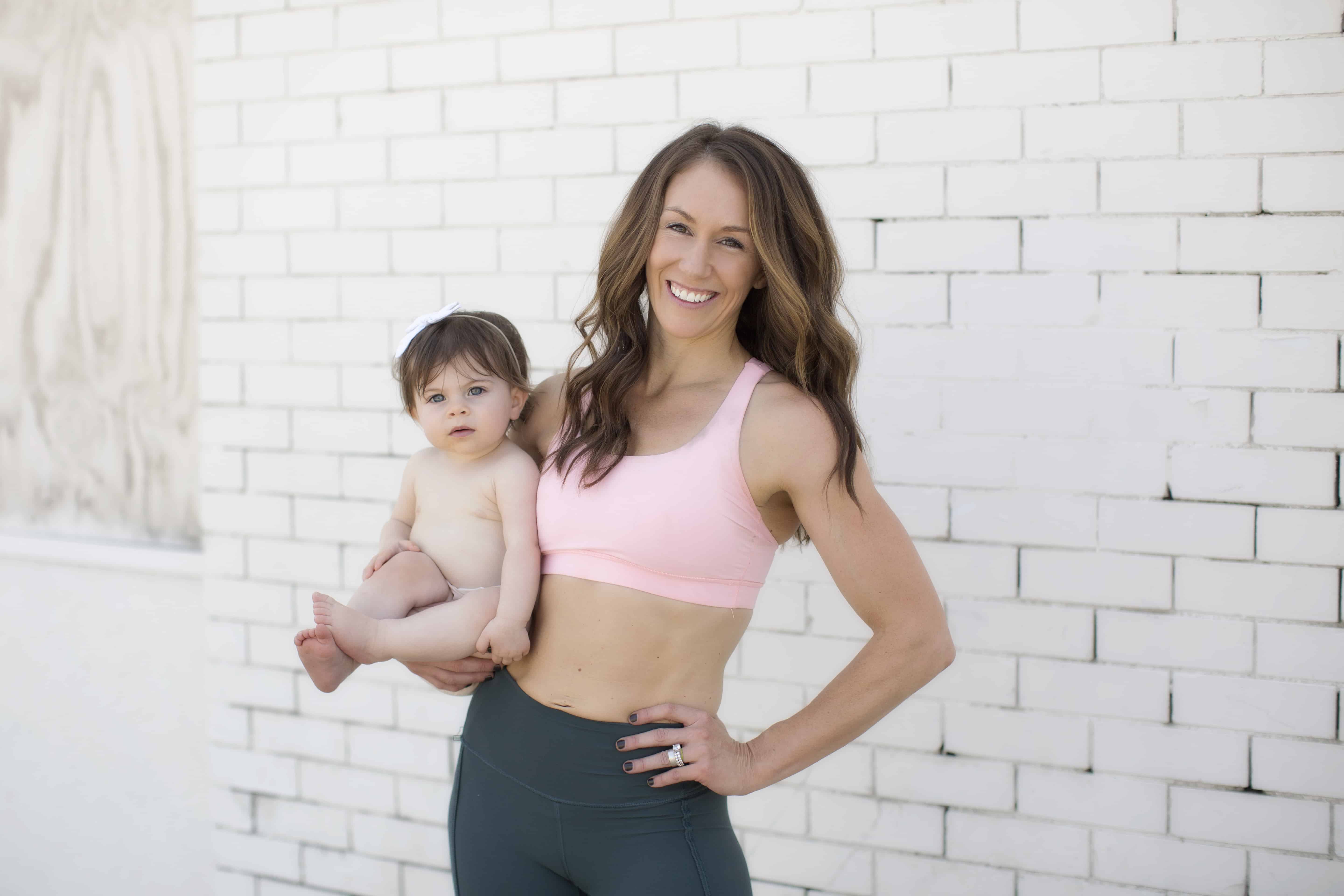 Brooke is a certified Prenatal and Postnatal Exercise Specialist with a Bachelors of Science degree in Kinesiology-Exercise Science. She is also a mom of 3 girls with more than 15 years of experience in health and fitness. Brooke's goal at Struggles of a Fit Mom is to help motivate, educate and inspire other busy mamas who struggle with finding time, energy and motivation to take care of themselves in the chaos of motherhood.