10 Simple Ways Busy Moms Stay Fit
10 Ways Busy Moms Find Time To Workout
As the name of this blog, "Struggles of a Fit Mom", implies the struggle to find time, energy and motivation to workout as a busy mom is real. I am now, as of three months ago, a mom of three and I often wonder what the heck I did with all my time before having kids! Even as a stay at home/work at home mom, finding time to workout takes some major planning and creativity.
My goal is for you to see that you don't need to spend hours working out to see great results and with a few helpful tips, motivation and creativity finding time is definitely possible.
Today I am going to share with you why it's important to find time to workout and my favorite tips for finding time to sweat even as a busy mom.
Why should you be so concerned with exercising and staying active?
The list of reasons is endless! But here are the top three reasons staying active is so important as busy moms.
1. Because you matter!
The better we take care of ourselves, the better we can take care of our families.
As mamas, we often put our own health and happiness on the backburner for everyone else. However, this is not doing anyone any favors. Exercise makes us feel good by releasing endorphins that help us reduce stress and anxiety while boosting mood and energy.
Think about it. When you feel good, you're happier, more energetic, and more positive. You know what they say, "if mama ain't happy, ain't nobody happy".
2. Because 1 in 5 children are considered overweight or obese (source)
This statistic makes me so sad but its a great reminder why we must stay motivated to take care of ourselves.
Our children learn more from what we do than what we say, especially at very young ages.
We cannot tell our kids to eat healthy while we chow down of donuts and burgers.
We cannot tell our kids to go outside and play or be active if we are not active ourselves.
We need to be the example for our children. Healthy families start with healthy moms.
3. Because motherhood is becoming more stressful and exhausting
The pressure moms face these days can be very stressful and exhausting.
Most moms I work start a workout routine because they want to lose weight. However, they stay consistent with exercising because it makes them feel better, not just look better.
Exercise can help us cope with the high demands of motherhood. The endorphins that are released during exercise help us reduce stress, boost mood, improve sleep and even boost energy. All of which we need for this crazy mom job, right?
10 Ways Busy Moms Find Time To Workout
With a little creativity, motivation and energy, you too can find time for fitness.
1. Have a plan
Sometimes planning a workout is the hardest part.It is one thing to find motivation to workout. But it's another to find motivation to figure out exactly what you'll do to sweat.
You will have a much better chance of sticking to your workout plan if you know what you're going to do beforehand.
If I don't plan out my morning routine ahead of time, my chances of actually getting up early are much more slim.
Every night before I go to bed, I brainstorm what I am going to work on when I wake up. I find myself less likely to brush things off when my alarm clock goes off.
If I plan on working out, I write down what my workout will be. If I plan on working on my business, I make a to-do list.
Doing this creates more accountability and motivation for when you want to hit that snooze button just one more time.
Related: Tone in 10-The modern moms guide to burning fat, getting lean and feeling confident in as little as 10 minutes a day
2. Early to Bed, Early to Rise
I recently read a book called "The Morning Miracle" and it has been a game changer. I used to be a total night owl. However, my days feel so much more productive when I start a little earlier.
My husband and I both wake up between 4:00-4:30am. He goes to the gym and I either work on my business, do a workout or both.
Mornings are often the best chance to break a sweat because there are less interruptions such as kids (hopefully) and things aren't as likely to come up in your day that prevent you from working out.
If you plan for a 30 minute morning workout, wake up 45 minutes earlier to give yourself some time to dust of the sleepiness with a hot cup of coffee and enjoy the peace and quiet.
And if you overslept, even just 10 minutes of physical activity in the morning can jumpstart your metabolism, boost energy and prepare you for your day.
3. Invest in some inexpensive workout equipment
Getting to the gym is not always possible. The drive time alone can eat up any available time you do have to workout.
Trust me when I say that you do not need fancy gym equipment to see great results from working out.
With a few pieces of equipment, you can get great results and in the comfort of your own home. When you only have a few pockets of time to workout, having some equipment on hand can really help maximize your time and accelerate your results.
Three pieces of home equipment I use every single week are my yoga mat dumbells, loop bands and battling ropes. I am also obsessed with my punching bag but this is a little more pricey and does require more room. But it's great for cardio and burning off stress!
4. Get your family on a schedule
As a mom of three, schedules are CRUCIAL to keeping everyone sane.
Schedules create predictability and everyone can plan their day better when we know what is expected ahead of time.
Personally, I like knowing when my kids are going to sleep, eat and play so that I can plan our days around it. This also means having a better chance of finding little pockets of time to squeeze in my workout.
5. Dress the Part
If you workout early mornings, make sure you have your clothes ready for the morning.
Heck, wear part of your workout clothes to bed so really don't have any excuses to get up!
If you plan to workout on your lunch at work, make sure your clothes are packed the night before.
When I'm home, wearing my workout clothes gives me no excuse to squeeze in a quick workout while I'm taking a break from working or while the kids are playing or eating lunch.
Remember, even just 10-15 minutes of physical activity can help you feel refreshed, rejuvenated, reduce stress and burn calories to help weight loss.
6. Use Your Breaks at Work to Break a Sweat
Prior to having kids, I worked 40-50 hour weeks with a long commute each way. This meant squeezing in a quick workout during my lunch or on breaks was the only option I had.
Working out during lunch not only helped me burn calories, but it also helped me feel rejuvenated to tackle the rest of my day.
Instead of zoning out on social media during your 10 minute breaks, you can squeeze in two rounds of High Intensity Interval Training called Tabata.
Or spend half your lunch hour exercising and the other half eating a healthy lunch. Even if you don't always have a full hour for lunch, something is always better than nothing.
Complete 2-3 rounds of 10 minute high intensity interval circuits to help speed up your metabolism, boost energy and reduce stress.
7. Take it to the streets
My little ones and I have spent a lot of time on stroller walks. It is one of the best ways to not only calm fussy babies but also burn some major calories and tone up. But I'm not talking your average casual walk.
If you really want to get the most bang for your buck and burn some major calories, I suggest throwing in some walking lunges, squats, jump squats, and lateral band walks. You could even bring your weights and do some bicep curls and lateral raises to tone your arms. This is where having those loop bands and dumbbells come in very handy!
I add some or all of these exercises every single time I take the kids for a walk!
View this post on Instagram
Give this a try:
1 minute speed walk

1 minute squats

1 minute speed walk

1 minute lunges

1 minute speed walk

30 seconds jump squats

1 minute speed walk

30 seconds jump lunges

Repeat 2-3 times
Remember, burning calories doesn't have to be fancy, it just needs to be consistent.
8. Include Your Kids
When it feels like we spend such little time with our kids, taking even more time away from them to workout seems impossible.
So instead, ask them to join or do your workout while they play. I know this can be a struggle at first because your kids might keep interrupting you for attention.
However, after a few times, they will start to become a little less needy of you during your workouts. They may even ask to join!
Working out with my girls used to feel impossible with all the interruptions. But now they understand that mommy needs just a few minutes to take care of herself but she isn't going anywhere.
If you are babywearing, there are so many things you can do with a baby on you. Plus, most babies love the movement.
View this post on Instagram
View this post on Instagram
9. Choose quality of quantity
Be intentional with your time.
When it comes to losing weight when you are limited on time, remember that intensity drives results, not time.
This means if you only have 10-20 minutes to squeeze in a quick workout, make the most of it by working out as hard as you can in the time you do have.
Instead of saying, "I only have 10-20 minutes to workout" say "How much can I do in the 10-20 minutes I do have?"
This will up the intensity of your workout giving you much better and faster results.
If results are really what you're after, how much you workout is not as important as how you spend your time sweating.
Related: Tone in 10-The modern moms guide to burning fat, getting lean and feeling confident in as little as 10 minutes a day
10. Make it worth your time
If you are going to take the time out of your busy schedule to exercise, make sure you stay focused and make it worth it. This means don't waste your precious time scrolling through social media or chatting with others.
Have a plan ahead of time and get your workout done as quickly as possible so you can get back to your family without feeling guilty.
I always tell myself that if I am going to take time away from my family to exercise, then I better work as hard as I can to make it worth it.
You'll feel much less guilty and way more satisfied by staying focused.
Finding time to workout can feel impossible. But following these 10 tips will help you finally find time to reach your goals without sacrificing time from your family!
As always, I am only one email away from helping you reach your goals or answer any questions. Never hesitate to reach out!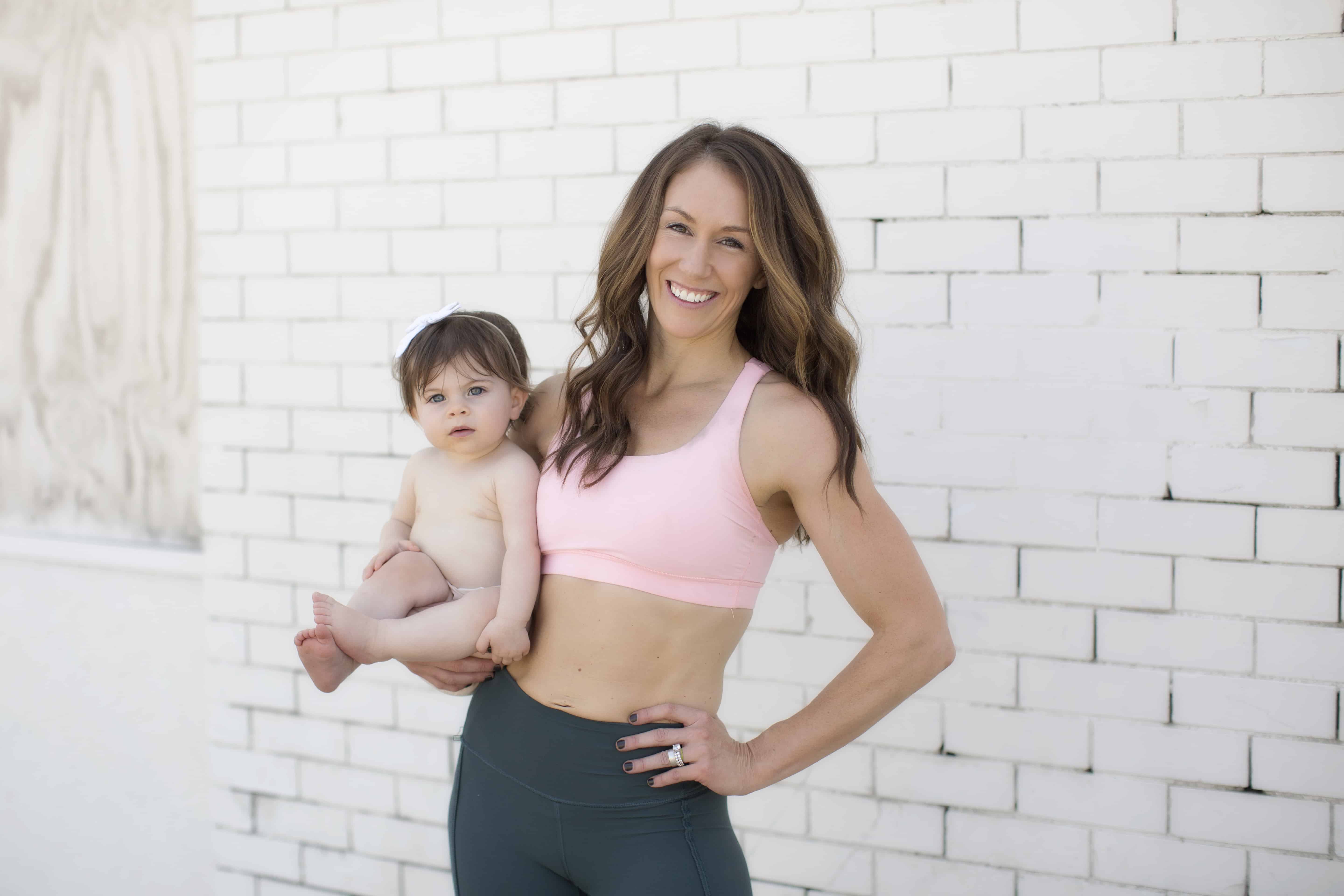 Brooke is a certified Prenatal and Postnatal Exercise Specialist with a Bachelors of Science degree in Kinesiology-Exercise Science. She is also a mom of 3 girls with more than 15 years of experience in health and fitness. Brooke's goal at Struggles of a Fit Mom is to help motivate, educate and inspire other busy mamas who struggle with finding time, energy and motivation to take care of themselves in the chaos of motherhood.