---
Week 33
I am desperately trying to figure out how to slow down time these last couple weeks before the baby arrives. It seems like yesterday that I was writing my first pregnancy update and here I am, already writing about week 33. Yikes!
With my first pregnancy, I felt a lot more rushed to get everything in order before I delivered. This time, I am still waiting for the so called "nesting" phase to set in because it seems like we are running out of time. Perhaps the process of prepping for the babies arrival during my first pregnancy felt more overwhelming because we had no idea what to expect or what things we needed or could live without. This time around, we already have an idea of what life with a newborn is like and realize that no matter what, we will survive and everything will work out just like it is supposed to….or so we hope! Things seem much more laid back this time around and its so much nicer. Having the same gender back to back is also a huge plus.
As my due date approaches, the nerves for the big day are becoming stronger. It seems like when you are pregnant the first time, the nerves are a result from the unknown. I remember thinking, "This baby has to come out of me one way or another and there is definitely no easy way out!" It was a scary thought. No one can prepare you for what labor is like and no two labors will be the same.
My fist delivery was definitely not a walk in the park but I do feel fortunate that it was not has traumatic as some. I did experience HORRIBLE back labor which no one warned me about and having that again really scares me! This time around, I have a little more understanding of the process but that could be whats causing the nerves.
Did you know that labor is equivalent to breaking every bone in your body simultaneously? YIKES! It is pretty impressive that us women are able to do such an amazing thing!
---
Todays Date: 03/28/2017
How many weeks are you: 33
What trimester are you in: THIRD!! YAY!
How big is the baby: Pineapple
Weight Gain: 20 pounds so far
Food Cravings: No big cravings
Food Aversions: It seems like most things I typically enjoy are a huge turn off right now. I have not been able to eat eggs for a couple weeks.
Gender: GIRL!!!
Diet: As my pregnancy progresses, sticking to a stable meal plan has been a little challenging. Some days, certain foods sound good and other days I can barely stand the site of them. As long as I keep myself within my caloric range, I am happy.
Maintaining a healthy diet through pregnancy can be a huge a struggle but is also very important. Healthy eating is the single most important thing you can do to prevent excess weight gain in pregnancy. You cannot out exercise a bad diet, during pregnancy or not.
Small piece of toast with peanut butter right when I wake up
A few hours later is usually:
Protein Shake with Banana and Peanut Butter.
I am obsessed with Garden of Life Raw Organic Protein in chocolate and vanilla. Most protein powders really upset my stomach but this one has not given me any trouble and I really enjoy the taste!
Typically Chicken breast
Vegetable like butternut squash
A few almonds or avocado
A protein and a huge salad or other vegetable.
I usually always have butternut or spaghetti squash however I have not been able to find it yet in the stores. I have been doing mixed veggies instead
Lara Bars
Protein Shake with banana
Carrots or Pop Chips and Hummus
Pistachios or almonds
Popcorn (I love the black pepper Skinny Pop popcorn)
Cereal-Rice Krispies, Chex, Cinnamon Life
Rice Cakes with peanut butter and honey
My current favorite snack is non fat Greek yogurt with peanut butter. Definitely worth trying! Sometimes I like to add 1 tbs chocolate chips.
Weekly splurge: My mother-in-law made her famous cheesecake for my husband and I to celebrate our birthdays. We had about half of the cheesecake left over which my husband and I split throughout the week. I enjoyed having a few bites with my coffee in the morning.
Exercise: I was very fortunate to be able to get 4.5 days in this week. One of the days was cut very short because my daughter was not happy being in the daycare at the gym. Mom life! I am still adding more cardio and higher rep weight lifting sets. I love the spin bike and stair climber because I do not experience any pelvic pain and I can continue doing interval training.
You can see quick video demonstrations of these exercises on my Facebook or Instagram page. To stay updated with my latest workout clips, be sure to follow me.
My fit pregnancy goals for the next SEVEN weeks are:
Focus on exercises to maintain core and pelvic floor strength. This will help with labor and any back pain (hopefully!)

Bird Dogs
Cat/Cow
Pelvic tilts
Side planks until they are no longer comfortable
Kegals EVERDAY!

Focus on exercises to maintain strength in my hips and glutes.

Clam Shells with loop resistance band
Glute kickbacks with band
Single leg hip thrusts with band
wall squats
reverse lunges with slight twist to work on balance and core

Continue doing 30 minutes of cardio 3-4 times a week
Focus on yoga stretches to help with aches and pains and prepare for labor
Aches and Pains: Pelvic and stomach pain. I am still wearing my my Belly Bandit Belly Boost support band for extra support throughout the day and I notice a huge difference in pain when I don't wear it. During my workouts, I use the Bao Bei Speedbump support band and this also helps provide the extra support needed to alleviate some of the pain and pressure.
Have you felt the baby move: Yes, some days more than others.
Labor signs: A lot of Braxton Hicks that are becoming painful at times.
Maternity clothes: Still not many maternity clothes. I live in workout clothes these days.
Sleep/Dreams: Sleep is still a struggle but I am just learning to accept it. I am up a lot to use the restroom and falling back to sleep is always a struggle. The baby is very active at night so this also makes sleeping difficult however I love laying in bed feeling her move.
Favorite moment of the week: Having our maternity pictures taken! It was so fun and I am blown away at how well they turned out. I cant wait to share them soon.
Looking forward to: Celebrating Easter with our families.
What ways did you prepare yourself for baby number #2? I would love to hear your ideas and experiences!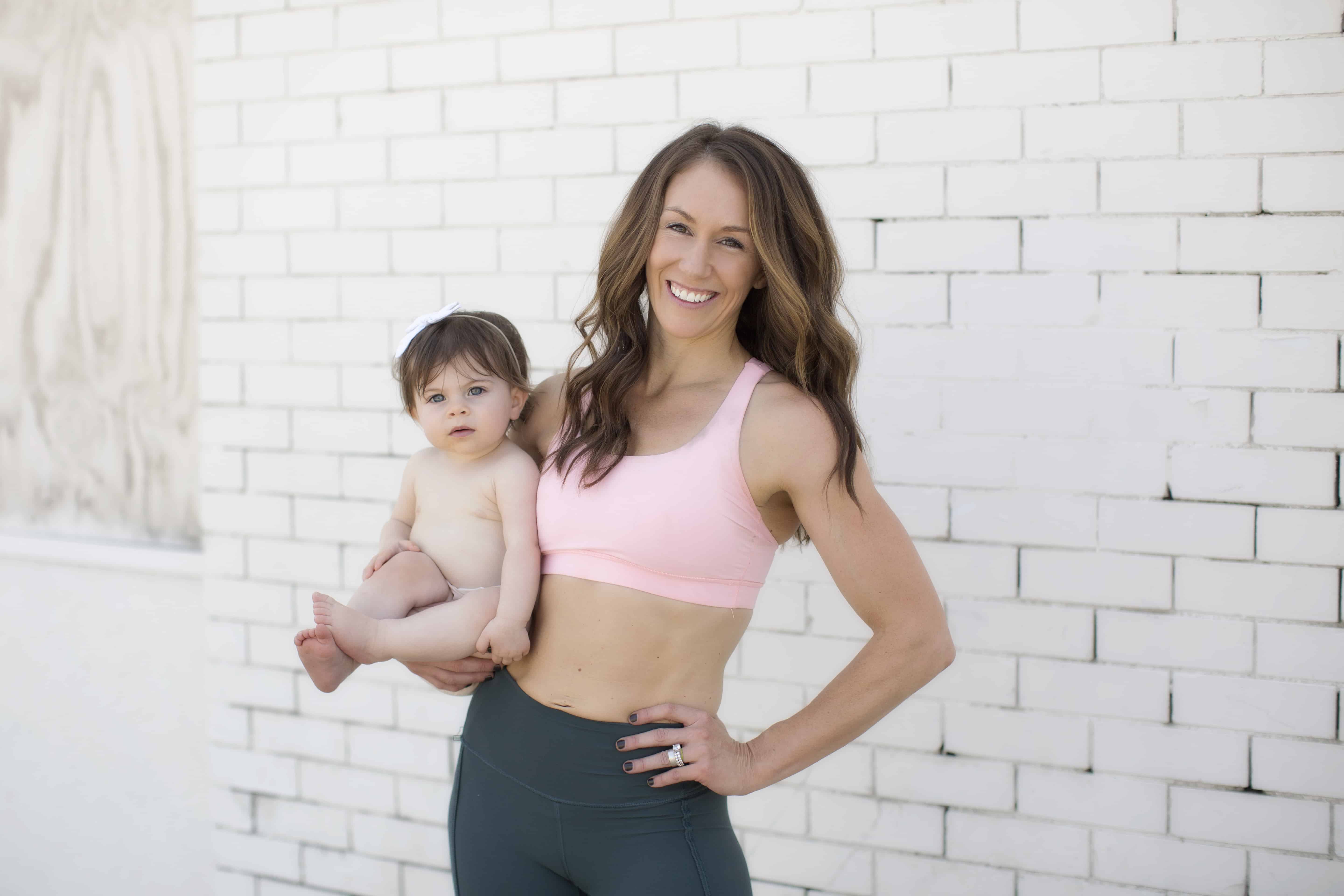 Brooke is a certified Prenatal and Postnatal Exercise Specialist with a Bachelors of Science degree in Kinesiology-Exercise Science. She is also a mom of 3 girls with more than 15 years of experience in health and fitness. Brooke's goal at Struggles of a Fit Mom is to help motivate, educate and inspire other busy mamas who struggle with finding time, energy and motivation to take care of themselves in the chaos of motherhood.