---
Week 32
This week was very exciting! We had a follow up prenatal ultrasound and our baby girl had her eyes wide open! I'm not going to lie, it was a little creepy at first. I had never seen anything like it before nor was I aware that babies open their eyes in utero however the experience was very neat! Between her smiling at one ultrasound and having her eyes open at another, this little girl has given us quite the show. Seeing her little face just helped my husband and I bond to here even more.
The pelvic pain I have been experiencing this pregnancy continues to really bother me. I have found that standing pelvic tilts have really helped strengthen the deep core muscles to help alleviate a lot of the pain and pressure I had been feeling in my pelvic floor and low back. Here is how to do them:
Standing Pelvic Tilt
1. Stand against a wall with bottom, head and shoulders touching the wall.
2. Breath in deeply, exhale and draw belly button to spine and press back against the wall.
3. Hold for 5-10 Seconds.
4. Relax and repeat 5 times
REPEAT 2-3 TIMES A DAY
---
Todays Date: 03/21/2017
How many weeks are you: 32
What trimester are you in: THIRD!! YAY!
How big is the baby: Florida Pomelo
Weight Gain: 20 pounds, the weight gain continues to increase at a much more rapid pace. This has been a struggle for me as I did not experience rapid weight gain until the third trimester. Instead of allowing the weight gain to upset me, I am embracing the process and staying fit and healthy. My body will do what it needs to create a healthy baby.
Food Cravings: Still Cereal. I love Chex and Rice Krispies. So boring!
Food Aversions: A lot of food aversions lately, eating is already becoming a huge struggle because I get full very fast and very few things sound appetizing. The only thing that sounds good is carbs.
Gender: GIRL!!!
Diet: Keeping up with my diet has definitely been a struggle. While I still choose healthy options, I find myself snacking more instead of eating complete meals. Maintaining a healthy diet through pregnancy can be a huge a challenge but is also VERY important. Healthy eating is the single most important thing you can do to prevent excess weight gain in pregnancy. You cannot out exercise a bad diet, during pregnancy or not.
Breakfast:
Small piece of toast with peanut butter right when I wake up
A few hours later is usually:
Protein Shake with Banana and Peanut Butter.
(Eggs have not been appetizing to me this week)
Lunch:
Chicken breast
Vegetable like butternut squash
A few almonds or avocado
Dinner:
A protein and a huge salad or other vegetable.
Im still love butternut or spaghetti squash
Snacks:
Lara Bars
Protein Shake with banana
Carrots or Pop Chips and Hummus
Pistachios or almonds
Popcorn (I love the black pepper Skinny Pop popcorn)
Cereal-Rice Krispies, Chex, Cinnamon Life
Rice Cakes with peanut butter and honey
Weekly splurge: My husband and I celebrated our birthdays with sushi and homemade peanut butter chocolate chip cookies.
Exercise: Despite the pelvic pain I have been experiencing, I was able to get four very good workouts in this week. I am adding more cardio and higher rep weight lifting sets. I love the spin bike and stair climber because I do not experience any pain and I can continue doing interval training. Lunges and Bulgarian split squats are completely out of the question right now which really disappoints me because they are two of my favorite exercises for lower body.
Here is one of my favorite workouts of the week. This is a great one pregnant or not!
Aches and Pains: Pelvic and stomach pain.
Have you felt the baby move: Yes, some days more than others.
Labor signs: A lot of Braxton Hicks that are becoming painful at times.
Maternity clothes: Still not many maternity clothes. I am trying to hold off from buying any new maternity clothes however my wardrobe is getting very limited!
Sleep/Dreams: I have been given a prescription medication from my doctor to help with sleep. Lack of quality sleep was becoming unhealthy for both me and the baby. I do not like taking it every night but I do recognize that in order for my body to maintain a healthy pregnancy, I need to get some quality sleep, even if that means taking a prescription medication.
Favorite moment of the week: Enjoying a date night with my husband. My husband and I spend a lot of quality time together but there is always something extra special about date nights.
Looking forward to: Having our maternity pictures done this week.
Be sure to follow me on Facebook or Instagram to see more workout ideas and motivation!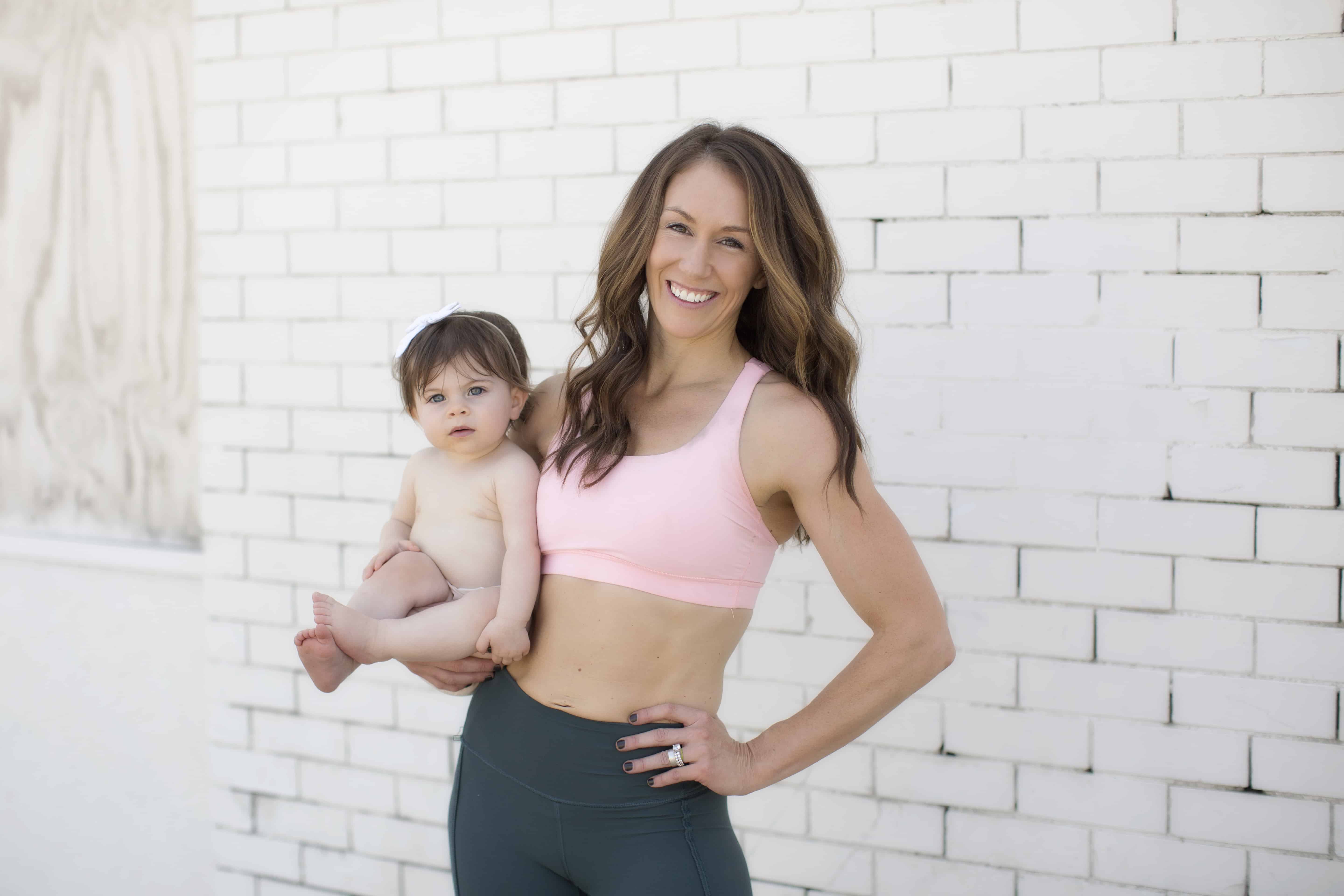 Brooke is a certified Prenatal and Postnatal Exercise Specialist with a Bachelors of Science degree in Kinesiology-Exercise Science. She is also a mom of 3 girls with more than 15 years of experience in health and fitness. Brooke's goal at Struggles of a Fit Mom is to help motivate, educate and inspire other busy mamas who struggle with finding time, energy and motivation to take care of themselves in the chaos of motherhood.