Week 22: Fit Pregnancy Update

---
Week 22: Fit Pregnancy Update
Todays Date: 01/10/2017
How many weeks are you: 22
What trimester are you in: Second
How big is the baby: Size of a spaghetti squash
Weight Gain: 8 pounds
Food Cravings: Surprisingly not too many cravings.
Food Aversions: None
Gender: Unknown
Prediction: Boy
Diet: Breakfast: egg whites, avocado and fiber cereal or oatmeal, Lunch: Chicken and a vegetable, Dinner: A protein and a huge salad or other vegetable. Snacks: pistachios, almonds, oranges, apples, Larabars, popcorn or a few ritz crackers with my daughter.
Weekly splurge: Sushi! Yum! (all cooked of course)
Exercise: Maintaining four days. Piper has decided to boycott both of her two hour naps which has made days very challenging. When I'm only able to get three or four workouts in a week, I like to switch it up often. This week, instead of designating a lower body, upper body, and cardio day, I did three full body workouts and one day of just cardio. An example of one of the full body workouts I love is what I call the 10, 9, 8, 7…..1 workout. I pick about 5-6 different exercises depending on the day and do each in a circuit for 10 reps, then 9, 8 and so on all the way to one rep each. I try to pick a weight that challenges me at both 10 reps and 1 rep and push through it as quickly as possible. Some exercises I love for this are:
Plyos: Burpees (w/Pushup), Jump Lunges, Squat jumps, Box Jumps, Frog Jump Burpees.
Legs: Squats, Deadlifts, Lunges, Reverse Lunges, Hip Thrusts, Step Ups (all weighted)
Back: Bent over rows, Wide Grip Pull ups, Narrow grip Pull ups, Row in push up position
Shoulders: Shoulder Press, Lateral Raises
Arms:Tricep Dips, Skull Crushers, Bicep curls
Chest: Pushups, Decline Pushups
This is just a short list of examples. The idea is to pick any 5-6 exercises and do them in the sequence as quickly as possible. Its fun to time yourself and revisit the exercise series in a week or two and try to beat your time.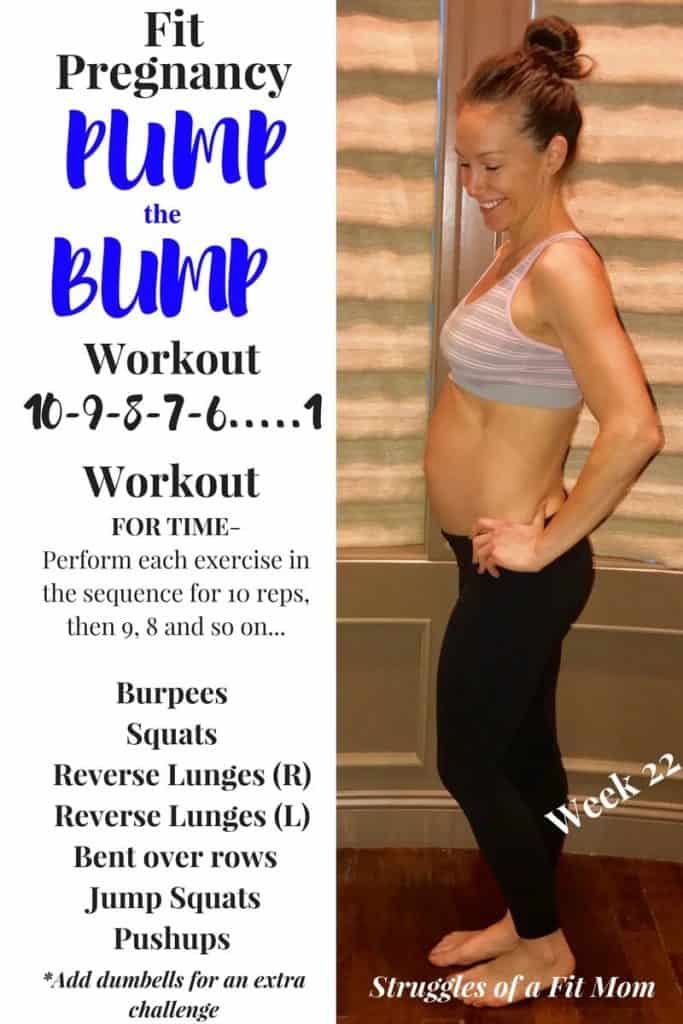 Aches and Pains: My belly has seemed to double in size over night which has caused a lot of pulling in my hips and lower back. I have also had a lot of round ligament pain. So far this pregnancy has given me a lot more aches and pains than my previous one.
Have you felt the baby move: Yes!! Big movements and my husband was even able to feel the baby move.
Labor signs: None
Maternity clothes: Still holding off on the maternity clothes but I will be needing to make the transition soon.
Sleep/Dreams: Some nights are definitely better than others. My pregnancy body pillow does help a lot.
Favorite moment of the week: My husband being able to feel the baby move. He wasn't able to feel the baby move often in my previous pregnancy as she was very inactive due to a short and thin umbilical cord. Thankfully this had no impact on her health however I hardly felt her move which was very scary.
Looking forward to: Planning our combined gender reveal and house warming party next week! We cant wait to find out the gender of this baby!
Differences from pregnancy #1: Aside from no morning sickness in either pregnancy, everything has been different this time around.
– I started showing much later in this pregnancy contrary to what I had read and been told about showing faster in the second pregnancy.
– I have felt this baby move much more quickly.
– My husband has been able to feel this baby move much more quickly
– I find myself complaining of being uncomfortable a lot more quickly even though I have gained less weight. The distribution of weight is much different.
– The fatigue hasn't gone away in the second trimester like I expected
– Im much more irritable and easily annoyed….oops.
– I am always bloated and uncomfortable =(
Struggles of the Week
I never realize how much I rely on nap time until Piper decides not to nap. That time is used to catch up on chores around the house, work on my blog or anything else that needs to be done. Not only does refusing nap time interfere with getting things done, it also makes for VERY long days because she is grumpy and very clingy.
I really struggle during days like this because I find myself frustrated that I cannot get anything done. It drives me crazy not being able to check things off my todo list, work on things around the house or even eat when I want to. Tending to my daughter is definitely the most important thing and I completely understand that everything else can wait. However, that does not mean the constant whining and crying over every little thing doesnt start to wear me down. Its like being at a day job and having your boss yell at you every time you don't do something right.
Getting out of the house is essential during these times. It distracts her from being over tired and gives me a little break. Win Win! Being that it is impossible to get a workout done at home during these tough days, one thing we both love is going to the gym. She actually asks me to take her by pointing to the door and listing off names of her little friends and the workers. Being that I am a stay at home mom, I definitely find myself needing a little break in the middle of the day sometimes. If I had a job that I went to everyday, I would get a break, right? I see nothing wrong with moms needing a little "me" time, even if it is only 30 minutes. I feel like a better mom when I do take that time for myself and Piper is a happier baby when she has some social interaction. I have received some backlash in the past for taking her to the daycare at the gym but doing so has been one of the best things for both of us.
If you don't have the option to take your children to a gym daycare, perhaps ask friends or family to watch the little ones for a few minutes and go for a run, do some burpees or squats. Ask your husband to hold down the fort when he gets home so you can squeeze in a little sweat session. I know it can feel like your burdening others but since when is it wrong to need a little time for yourself?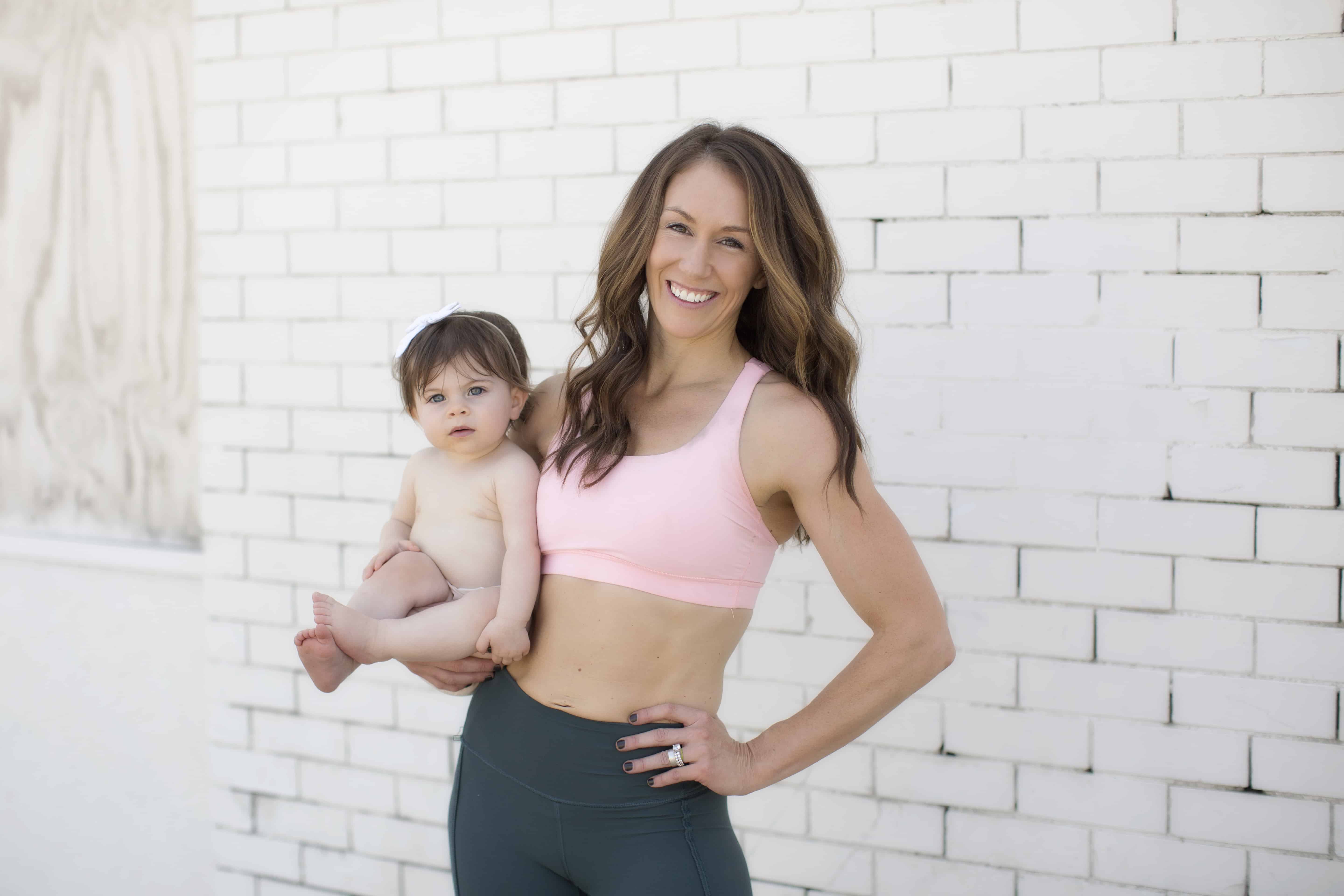 Brooke is a certified Prenatal and Postnatal Exercise Specialist with a Bachelors of Science degree in Kinesiology-Exercise Science. She is also a mom of 3 girls with more than 15 years of experience in health and fitness. Brooke's goal at Struggles of a Fit Mom is to help motivate, educate and inspire other busy mamas who struggle with finding time, energy and motivation to take care of themselves in the chaos of motherhood.