Tone in-10
Lose Weight, Not Time
Hi there, I'm Brooke!
Can I let you in on a little secret?
I have found the secret to faster weight loss results without sacrificing our precious time and I want to share it with you!
Welcome to Tone in-10!
this Program Was designed with

YOu

in mind!
Can I show you how as little as 10 minutes a day can help you lose weight, tone-up and uncover your ideal health, happiness and confidence?
Prior to having kids, I wasted way too much time working out only to see minimal results.
(Left-Before Kids. Right-After two babies)
I wasn't lean…
I wasn't toned…
I wasn't very confident…
In my mind, the longer I worked out, the more calories I would burn and the better results I would get.
Sound familiar?
But guess what….
Intensity drives results, not time!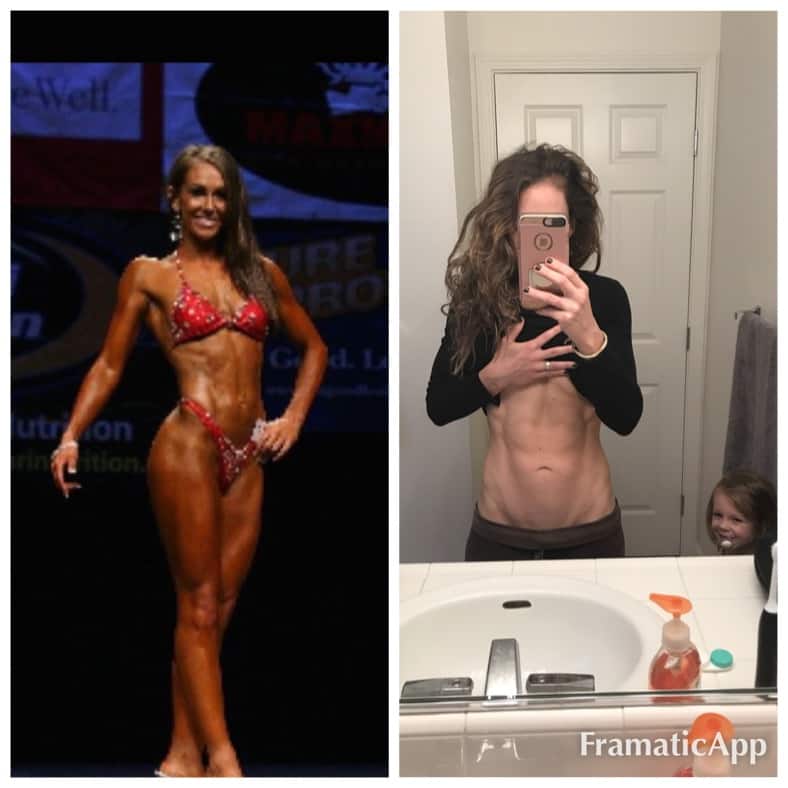 After the birth of my first daughter, I worried how these long, drawn out workouts would fit into my busy schedule.
Truth is, they didn't.
Nor did I have desire to spend so much time away from my family to exercise. But giving up on my workouts and health was not an option.
So my time spent exercising had to be quick, intense and intentional.
Despite working out LESS I was seeing BETTER results than I had in my entire 15 years of working out, even after two babies!
These workouts have helped me:
+Get leaner
+More Toned
+MORE CONFIDENT!!!
And you can too!
Learning to "Take-10" a day CAN help transform both your body and mind leading to a more confident, energetic and healthy life!
What it Means to "Take-10"
In a world of high stress and lack of time, learning to "Take-10" everyday can help create a lifetime of health, happiness and confidence.
The program combines High Intensity Interval Training with weight training to burn more calories and reshape your body faster without wasting precious time.
The need for quick, effective, fat-loss workouts that are easily accessible without fancy equipment has never been greater.
Tone in 10 was developed out of necessity more than anything. I know you're busy and probably crave just a few minutes each day to reset your mind and boost your energy!
Quickly Reshape your Body
Strategic body toning and fat burning workouts that fits into YOUR lifestyle. Torch fat while preserving and building lean muscle at the same time!
Workouts can be done alone or in conjunction with any fitness program!
Save Time & Money
Tone in 10 is perfect for anyone who wants quick results with limited time requirements. The workouts can be done anytime, anywhere without the need for fancy equipment or pricy membership apps or programs.
Burn up to 9x More Calories
The secret behind Tone in 10 workouts is the afterburner affect (EPOC). With the structure and intensity of the workouts, your body burns MORE calories AFTER the workout is over! These workouts boost metabolism and turn your bodies into a calorie and fat burning machine!
What makes This program Different?
What sets Tone in 10 workouts apart from other training methods is its ability to accelerate weight loss and build muscle at the same time by creating an "Afterburn effect" or EPOC (Excess Post Exercise Oxygen Consumption).
This means your body continues to torch fat and calories after the workout is over, even while you are doing nothing!
I know first hand the struggles of wanting to look and feel more confident but lack of time stands in your way.
I created the "Take-10" movement to empower busy women, like you, to practice self-love in order to transform both their bodies and their lives through quick and highly effective workouts.
Tone in 10 delivers fast results in as little as 10 minutes a day while supporting and empowering you to take care of your own health.
Not only do you need quick, sustainable results from less time consuming workouts, you need support, motivation and encouragement to create a full lifestyle change.
I want to give you exactly that!
10 week training program with 60+ fat burning & toning exercises
More than 15 workouts ranging from 4-20 minutes that can be done on even the busiest of day
Private Online Community and Instant access to me!
Receive a private email address for quick access directly to me for Tone in 10 Members onlY
No Membership Fees or Fancy Equipment required
Most programs these days require membership fees, not this one!
Over 10 Bonus workouts Including the strong core guide
Access to Private Facebook Group With live Q & A Sessions and extra support.
Nutrition tips for faster results
STart Here, Start Now, Start for you!!
Working out is more than just reshaping your body… it is about reshaping your life and feeling more confident, healthy and happy.
8 Reasons Tone in 10 Method is Proven to Work
Highly Efficient
Life is busy, I get it! These are real workouts designed with your busy life in mind! 110% effort in 10-30 minutes beats 10% effort for 2 hours giving you greater results in much less time.
Backed by Science
Science has proven over and over that HIIT training is one of the best and fastest ways to burn fat, lose weight and reshape your body is less time.
Burn Fat & Boost metabolism Faster
Increase fat loss by unlocking 24-7 calorie burning. With the unique design of the Tone in 10 workouts, you will see how quickly your body burns fat and tones up at the same time!
More Sustainable
Strict time requirements and fancy gym equipment can make sticking to a workout routine almost impossible. These workouts fit perfectly into your busy life leading to a complete lifestyle change!
Easy To Get Started
Whether you are a beginner or more advanced, these workouts can easily be modified to your level so that you can get the best results. Strategically designed workouts will help you get stronger, burn more calories and tone up quickly.
Quick Results
Intensity drives results, not time.
Do you want to see better results faster?
Reshape your body & Life
When we feel better physically, we are happier and more confident!
The Best Support!
One of the best ways to reach and maintain your goals is with the proper support. And that is exactly what Tone in 10 gives you! A supportive community of likeminded women helping each other to uncover their ideal health, happiness and confidence!
We need support to be conisistant and see the greatest results.
My Philosophy is "Less is More"
The key to getting the best results from your workouts boils down to two things:
Intensity

We need our workouts to be quick and efficient!

None of us want to spend hours working out to see minimal results. The greater the intensity, the greater the results

Sustainability

Time consuming workouts and unrealistic diet plans can feel almost impossible to maintain. Taking just 10 minutes a day for your health is something we can all do!
Tone in 10 Teaches you both Intensity and Sustainability for Maximum results!
>No more zoning out on cardio equipment for hours
>No more boring workouts that you dread
>No more feeling guilty for taking time for yourself!
First, and most important, I am a mom of two beautiful little girls with one on the way and wife to an amazing husband.
I am also a personal trainer with a B.S in Exercise Science and Prenatal/Postnatal Exercise Specialist.
I have helped thousands of ladies, just like you, uncover their ideal health, happiness and confidence through losing weight, gaining strength and stop feeling guilty or selfish for taking care of themselves.
My goal is to empower women, especially busy moms, to take care of their own health and happiness without feeling guilty or selfish.
The health & happiness of our families depends on us! YOU Must be the example of self-love!
Learning to take just 10 minutes a day for myself has made me a more loving wife, patient mother thrive in my business and personal relationships.
It's Your Turn to "take-10!"
The "Take 10" movement is transforming the happiness, health and confidence of women all over!
Unlock your bodies fat and calorie burning potential without strict time requirements or unrealistic diet plans.
Maximize your time working out for greater results
Support & Guidance At your Fingertips
You can reach your goals & we can do it together!
I first met Brooke right after she had graduated from college. Her enthusiasm for health and fitness is just as strong now as it was then. Brooke was my trainer for several years, and I can honestly say in my late 40's and early 50's I was stronger, healthier, and leaner than any other time in my life. Brooke's knowledge of nutrition and exercise provides her clients a balanced perspective. I highly recommend Brooke's workouts. Her focus on form and safety makes the workouts effective, challenging, and different so you never get bored.
I personal trained with Brooke for a little over a year before I left town to start my career. I did one on one training as well as small group training. During my training sessions with her I learned so much about my body and that I can push my body beyond its limits to gain strength and endurance. Her workouts were always different, fun (though very tough and intense), and effective.
Not only did she help me with strength and endurance, she taught me how to eat for MY body type and to NOT be afraid of food.
Brooke also taught me that you don't need to spend hours in the gym to get results, but that short and high intensity workouts are extremely beneficial if wanting to change your body. If I lived in town, I would definitely be training with Brooke again! An exceptional, trainer, friend, mother and wife!
I am 51 and had opportunity to train with Brooke one on one after stalking her in gym for several weeks. I couldn't help but admire her strength, non-stop sets, and of course how cut she is. One day she approached me and gave me some gentle direction on an exercise I was doing and from that point on we have been friends. But at that time that I learned I could actually train with her.
Every day it was something different and all I had to was show up. She is creative and with a bachelors in Exercise Science she kept me working all the muscle groups correctly. She pushed me but in a way that made me feel good. Brooke's passion to help women achieve their goals is what really touched me and how smart she is.
To this day I incorporate what I learned from Brooke and oh let me mention my eating habits have forever changed due to her influence. My husband also likes the results.
Frequently Asked Questions
Is a monthly membership fee required?
NOPE! My goal is to make reaching your goals affordable and achievable while providing you with as much support, motivation and encouragement as possible!
Is equipment required?
Nope! You can do the exercises without equipment. I do recommend a pair of dumbbells and loop bands as you progress through the workouts to continue challenging your body to see maximum results.
What supplements do you recommend?
I am pretty picky what I put in my body or recommend! I HIGHLY suggest a collagen protein, protein powder , a multivitamin and probiotic. If you want an extra pep in your step for your workouts or just need an little boost of energy, I love this pre-workout because it isn't filled with a lot of additives like most preworkouts.
I am a beginner, will I be able to do these workouts?
ABSOLUTELY! Each exercise has a video demonstration and written description. The beauty of interval training is that you can scale the workouts to your fitness level. Your goal should be to get more reps during the intervals which indicates that you are getting stronger and more fit while losing weight and toning up!
Can I do these workouts if I am pregnant?
While most of the exercises in this program are safe for pregnancy some do require modifications to prevent Diastasis Recti. If you are pregnant, feel free to email me and we can discuss if this program would be a good fit for you at this time. I also highly recommend consulting with your doctor before beginning ANY workout routine.