Three months have come and gone with the blink of an eye. My husband and I have experienced some of the most challenging, yet rewarding moments of our entire lives with our baby girls. Two babies under two years old is absolutely crazy! Between sleepless nights and long days, we have managed not to kill each other and instead, embrace every single moment we spend as a new family of four.
One thing that has made this process so much more manageable is having a husband who helps A LOT. Even when he has had a long day and is tired from being up at 4:00am to workout, he still comes home and immediately plays with the kids or gives me a little break when I need it. We have gotten though the challenging times by working as a team and communicating as much as possible. He acknowledges my days are long too and that I don't always get breaks. He also understands that I don't sleep at night because I am up with the baby. Having an understanding of what your partner is feeling and experiencing can go a long way in your postpartum recovery period as well as making the transition to having babies, or multiple babies much easier. I need to give him more credit where credit is due. =)
One of the sexiest things I have ever heard my husband say is at 4am when I haven't slept and he says, "Ill take the baby so you can get a little extra sleep!"
Establishing new routines for our family has been TOUGH! Our two year old, (Piper), really struggled with adjusting to not being the only girl in town and our newborn, (Tatum), was pretty fussy and is a horrible sleeper.
I would by lying if I said or implied that getting back into a consistent workout routine has been easy. My husband and I have both struggled hard with finding time, energy and motivation. Sound familiar? We all struggle the same!
Despite these challenges, we have both managed to get at least 3-4 workouts in every week. Some might only be 20 minutes and others much longer. I have had to learn to change more of my workouts to be done at home when I cannot get to the gym. My husband has had to learn to get up at 4:00am to go to the gym (something I NEVER thought I would see him do!)
I have tried taking the kids to the gym daycare a couple of times. Tatum is extremely attached to me and if I leave her sight for a second, she starts screaming. My oldest loves the gym daycare now but I remember when she was Tatums age, it took her a couple weeks to get used to it. Once she did, we had a great routine of going several days a week. She got to play, and I got to workout. Hopefully Tatum will adjust soon.
Slowly but surely we are getting into our new daily routines but it has been a very challenging process. Like I mentioned before, Tatum is a HORRIBLE sleeper and has yet to give me more than 2 hours of sleep at a time. Sleepless nights and not having a consistent nap schedule yet does not allow time for much of anything let alone working out.
My 2 year old LOVES to workout with me and I can get a lot done with her. Exercising has become an activity that we really enjoy together. She loves copying me and showing off her new exercises. Knowing that I am teaching her healthy, active habits by including her in my workouts gives me a lot more motivation even when I feel too tired. Teaching our kids healthy habits early on is so important.
Moving Forward….
Prior to having babies, I really struggled with the fear of what pregnancy and childbirth would do to my body. It was the first time in my life where I had absolutely no control over the changes that were happening to me. Having had an extreme eating disorder for many years when I was younger, this was very scary for me.
I know first hand the challenges of looking in the mirror and no longer recognizing the person you see after having a baby. You may feel like the same person on the inside but now in a new body. No matter how much joy being a mommy brings you, it is OK not to always love the body you see in the mirror.
HOWEVER….
Even if you don't love what your body looks like right away, PLEASE try to appreciate and respect it for what it has been through!!
One of the hardest parts of the postpartum recovery process is accepting and appreciating our new bodies.
We cannot always change our bodies exactly the way we want but we can definitely change our perspective of how we feel and what we think when we look in the mirror.
How I learned to accept my new body….
So often we hear things like, "How to get your pre-baby body back" or "How to bounce back quickly after having a baby." This puts so much pressure on ourselves to look and feel a certain way immidiatly after having a baby. I am very guilty of putting these pressures onto myself. When you are ready and you feel like you want to start rebuilding your postpartum body to gain more confidence, do it for YOU and not because you feel pressured.
YOUR BABY IS GOING TO LOVE YOU NO MATTER WHAT!! I PROMISE!!!
Having a baby does not ruin your body, but it does change it. This does not mean you can't be just as strong or even stronger! The motivation is so much greater because now you have little eyes watching you stay happy and healthy. Having physical and mental strength as a mama is so important and making time for a little exercise can go a long way.
My Favorite Top 5 Ways that helped me ease back into exercising.
Take your time! Start healthy eating habits immediately and this will help you drop extra baby weight without even exercising.
Once you feel ready to get moving more, start by walking. See how far you can go before you feel weak and exhausted. Don't push it too early on. (It took me over a week to make it to through our small complex without being exhausted and start bleeding again or being in excruciating pain when I got home).
Once walking becomes easier, (and with the approval of your doctor), start adding some light core and pelvic floor work (stay tuned for some helpful exercises)
Be kind to your new body! Your joints will still be lose from the hormone relaxin. Some women are able to resume higher intensity workout routines more quickly than others but this can certainly cause joint pain if you are not careful. Stick to doing what feels best for your body and don't compare yourself to anyone elses postpartum journy. Start where you feel comfortable and build from there.
Remember, its not about getting your body back, it is about getting your CONFIDENCE back!! Your body has just done the most amazing thing in all of human nature. Be patient and you will become stronger both mentally and physically every single day! You definitely don't want to resume strenuous exercise too quickly and hurt yourself. This will make the journey much longer.
So, how I have lost the baby weight and regained strength after my second baby?
*Notice I say, "regain strength" and not "get my body back"? My focus on getting stronger, not skinnier!
Diet
I have to admit that my diet has not been as consistent as I would like. I find myself starving by the time my husband is home from work only to realize all I have had is a protein shake and a few snacks.
This is a HORRIBLE habit and if I were my own client, I would be in BIG trouble. I am not proud of this behavior but it has been the reality. I barely remember when I washed my hair last let alone counting macros!
The most important part in reaching your health and fitness goals is to make healthy food choices no matter what. Thus far, I have been staying in a relatively safe macro range for my body but when I want to get more serious, I will start tracking my macros better.
The good news about postpartum weight loss…
As a busy mom, finding time to workout can be a HUGE struggle and can be a little frustrating. But the majority of your weight loss goals are going to come from what you eat. How is this a good thing?
Because it is a little easier to avoid putting junk in my mouth than finding time to squeeze in a sweat session!
Keep this in mind when you are trying to lose weight….
80% of results come from diet, 10% from exercise and 10% from genetics.
This means that maintaining a healthy diet will help you lose weight more quickly than just exercise alone. So, if you are struggling to find time to workout, focus on watching what you eat and exercise when you can. But of course, the combination of both equals the greatest results.
I typically follow an, "IIFIYM-If It Fits In Your Macros" type of diet rather than having strict meals and times to eat. This works better for me and my schedule. I try to eat something every couple hours to keep my metabolism moving and hormones balanced. My days consist of a lot of snacking and grabbing what I can in between taking care of the babies, the house and working.
Many of my clients prefer to have a much more structured meal plan which is great! It is much easier to count macros and plan ahead!
A typical day of eating looks like this: (I do eat almost the same thing every day)
Breakfast:
1 egg, 3-4 egg whites
1 slice of wheat bread with a little peanut butter
Coffee, a lot of coffee!
Lunch
Protein Shake
Garden of Life Protein powder
1 Frozen banana
1tbs peanut butter
Unsweetened Vanilla Almond milk
Dinner
Salad (we eat salad every night!)
Cut up salmon burgers or turkey burgers from Costco. Or Shredded chicken
1/3 avocado
tomato
black olives
1-2tbs chopped almonds
Lite Italian dressing and Balsamic vinegar
Croutons (if Im feeling rebellious)
Snacks throughout the day
Lara bar (coconut chocolate chip is my favorite)
Almonds
Fruit
Cooked chicken breast
Hummus and celery or carrots
Cereal (Cheerios)
Suja Green Juice
Rice cake with Peanut Butter or Hummus
25 snacks to always have on hand
Meal Prep Santa Fe Chicken Bowls for busy moms
I have enjoyed wine more than I care to admit and on the weekends, my husband and I like to enjoy a cocktail or two. I never suggest giving up these things entirely but there definitely has to be a balance.
Workouts
Getting back in shape and gaining my strength back is very important to me. As much as I wanted to dive right back in to doing what I was doing prior to pregnancy, I had to remind myself to take it easy and listen to my body. This was my second pregnancy and things took a little longer to heal. These are a few things that needed greater attention than just losing the pregnancy weight:
Heal the one finger width separation in my abs from pregnancy called Diastisis Recti. This causes a very weak core and low back pain
Strengthen my pelvic floor to stop peeing my pants when I run long distances and try to heal slight Pelvic Organ Prolapse of the bladder
Feel strong lifting a heavy carseat, toddler and diaper bag at the same time.
Lose the extra baby weight
It is also important to note that we may be unable to participate in any strenuous, high intensity exercises if we do not take the time to heal our bodies appropriately from the inside out. This means losing weight and toning will much harder and could take longer.
Finding a Balance
I am still working on finding the right balance and routine for my workouts. Home workouts are great and I do them often but in order to reach my own personal goals, I need to go to the gym a couple days a week as well. The gym has things I enjoy which I do not have at home like the stair climber, treadmill and wider range of free weights.
My favorite home workout:
My favorite gym workout:
In order to fully understand the affects of pregnancy and childbirth, I have been working towards receiving my prenatal/postnatal exercise specialist certification. This along with my Bachelor of Science degree in Kinesiology will give me a better background of knowledge to help more women recover and repair their bodies after babies. I am very excited for the things that are coming to Struggles of a Fit Mom!
Looking for more free workout ideas?
Get Fit With HIIT-Busy Moms Weight Loss Solution
How To Create Your Own 30 Minute Workout
The Ultimate 12 Minute Fat Burning Workout
Here is a list of some of my favorite, inexpensive pieces of workout equipment you can use anytime, anywhere
The Ultimate List Of Mommy Must Haves
Be sure to follow me on Facebook or Instagram to see more workout ideas and motivation!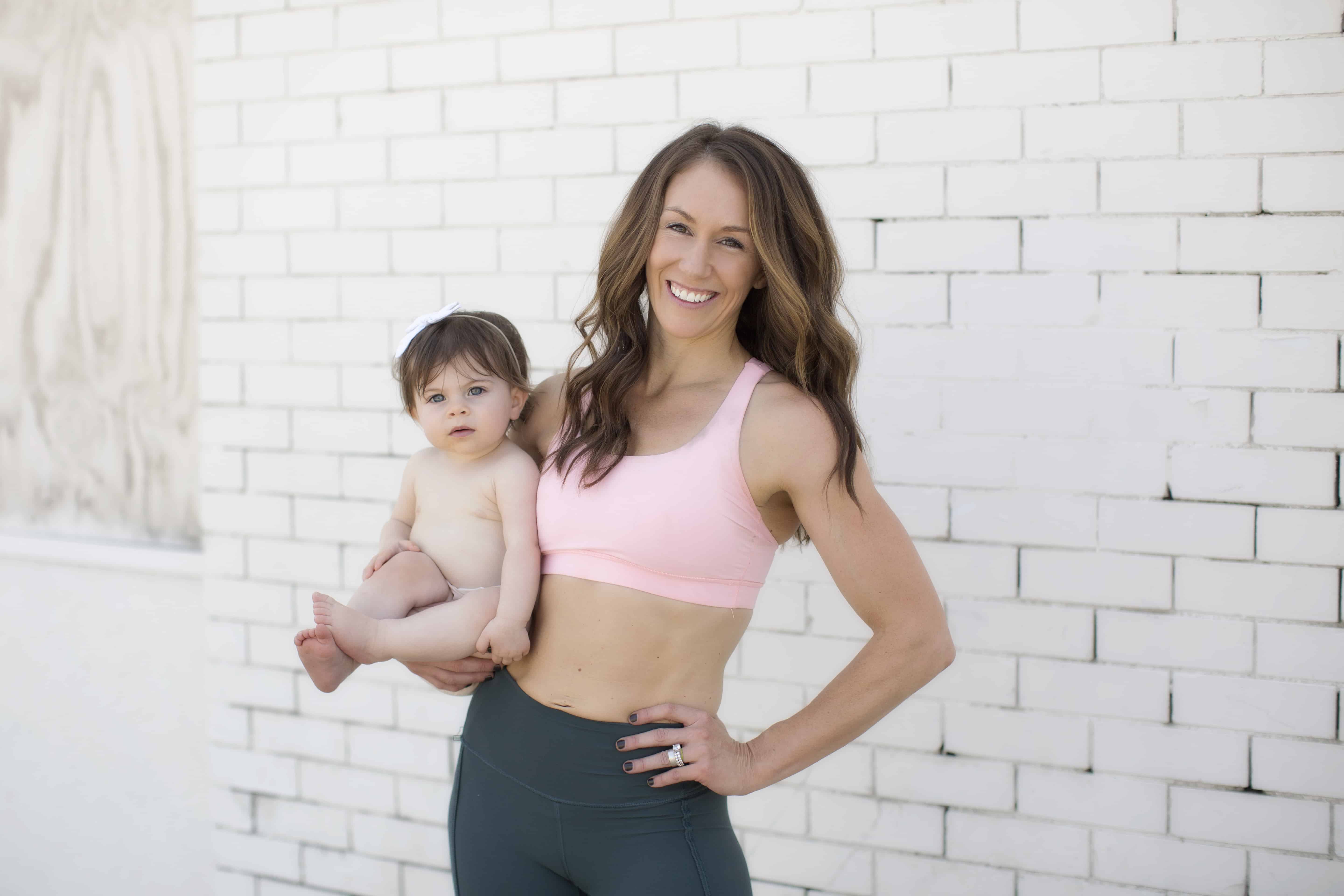 Brooke is a certified Prenatal and Postnatal Exercise Specialist with a Bachelors of Science degree in Kinesiology-Exercise Science. She is also a mom of 3 girls with more than 15 years of experience in health and fitness. Brooke's goal at Struggles of a Fit Mom is to help motivate, educate and inspire other busy mamas who struggle with finding time, energy and motivation to take care of themselves in the chaos of motherhood.