---
Kitchen Freedom Meal Prep
I don't know about you, but I HATE dishes! Seems like right when all the dishes are clean and put away, another one (or five) magically reappear in the sink. Meal prepping really helps balance the struggle of never ending dishes. I notice a huge difference in the amount of time spent in the kitchen when meals are not prepped ahead of time.
Eggs, ground turkey and chicken remain the staples in this weeks meal prep. There are so many things you can do with these three items! And the best part is, I can buy them in bulk at Costco and they make about 2-3 weeks worth of meals.
Meal prepping went much more smoothly this week with little to no distractions. I have found that prepping meals is the easiest when Piper goes to bed at night. I know she's not going to get up so there will be no interruptions.
I have found the key to a quick and efficient meal prep is finding a time where you will not get distracted. I tend to lose my train of thought very quickly these days and getting side tracked is not hard to do. Grab a glass of wine and start cooking! (I'll have to hold off on the wine for another three months or so)
---
Ingredients and shopping list for the week
Egg Casserole
Eggs (purchased in bulk at Costco)
Bell Pepper (frozen or fresh)
Mushrooms (Fresh works best)
1 c. Shredded Cheese
Salt and Pepper to taste
Mediterranean Chicken Bowls
4-5 Frozen chicken breasts (purchased in bulk at Costco)
1 c. Quinoa (purchased in bulk at Costco)
2-3 Tomatos-chopped
1 Cucumber-choppd
2 Red bell pepper-sliced
Sliced olives (Black or Kalamata)
Feta cheese
1/c. Nonfat plain greek yogurt
1/4-1/2 pkt. Hidden Valley Dill Ranch salad dressing mix
Hummus
1 Lemon
Lemon Juice
Ground Turkey Santa Fe Bowls
1 Package Lean ground turkey (93/7% ground turkey bought in bulk from Costco)
Prepared Mexican rice (I used leftovers I had frozen)
1-2 Cans black beans
1 Red bell pepper-sliced
1 Green bell pepper-sliced
1/3 White onion-chopped
1 pkt Taco seasoning
Salsa
1 c. Nonfat plain Greek yogurt
Putting it all together
TIPS:
Get all ingredients that are going to be used out at once
Wash and cut all veggies before you start cooking
Start meal prepping with items that take the longest to cook.
Preheat oven to 425 degrees. Begin by cooking the Qunioa and sautéing onions on the stove.
For Egg Casserole
Spray 9×13 baking dish with nonstick spray
Determine how many eggs per day you eat and multiply by 5 to give 5 meals. (For my husbands meals, I did ten whole eggs and 25 egg whites. For a lesser amount of eggs, I would use an 8×8 baking dish)
Fill bottom of baking dish with bell peppers and mushrooms
Whisk or blend eggs. Add Italian seasoning, salt and pepper to taste
Poor over bell peppers and mushrooms
Top with shredded cheese
Cover with Aluminum Foil
Bake at 425 for about 40 minutes. Uncover and cook an addition 10 minutes or until done.
While the eggs are baking….
Cut and prepare bell peppers, tomato and cucumber for both the chicken and turkey meals
Add ground turkey to sautéed onions. When finished, add taco seasoning according to package directions
In another pan, sauté sliced bell peppers
Once ground turkey is complete, place in separate bowl to cool
Chop chicken and sauté in same pan used for turkey
Remove eggs when finished and allow to cool on stove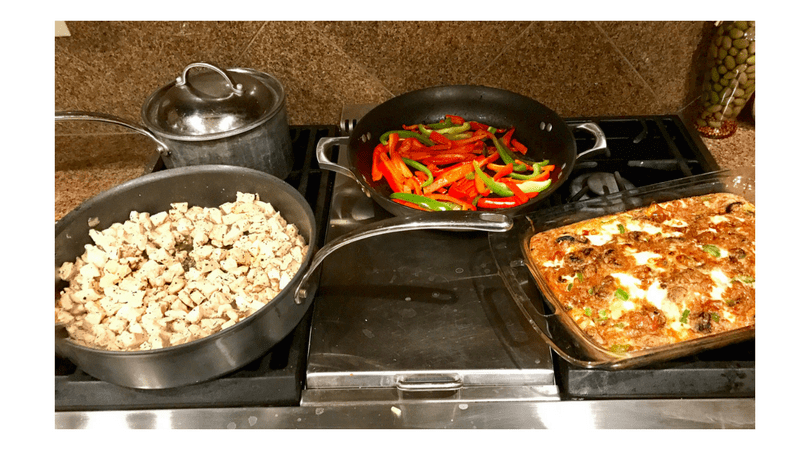 To Assemble Santa Fe bowls:
Portion and distribute desired amount of rice and beans into each meal prep container
Add ground turkey mixture and bell pepper
Top with Salsa and 2 tbs plain non fat Greek yogurt.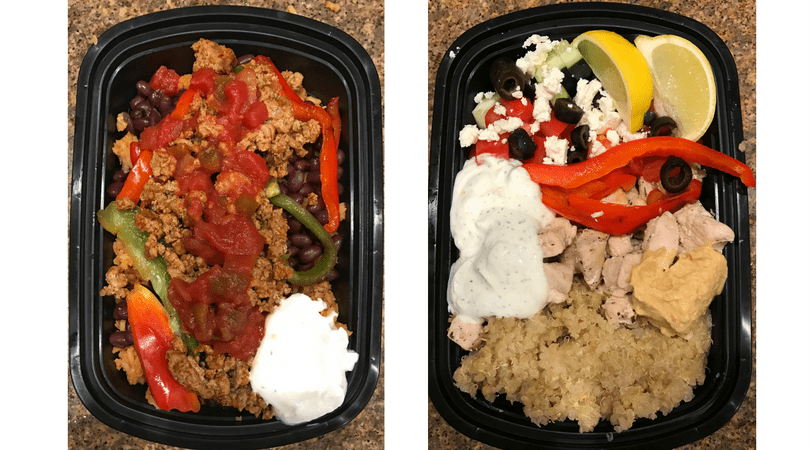 To Assemble Mediterranean bowls:
Combine greek yogurt and dip seasoning in separate bowl
Portion and distribute quinoa into meal prep containers.
Add portioned chicken, cucumber, tomato, and a few bell peppers (reserving some for turkey bowls)
Top with

2 tbs Olives
1/2 tbs. Feta cheese
2 tbs Greek Yogurt mix
1 tbs hummus
2 lemon wedges.
How did we do?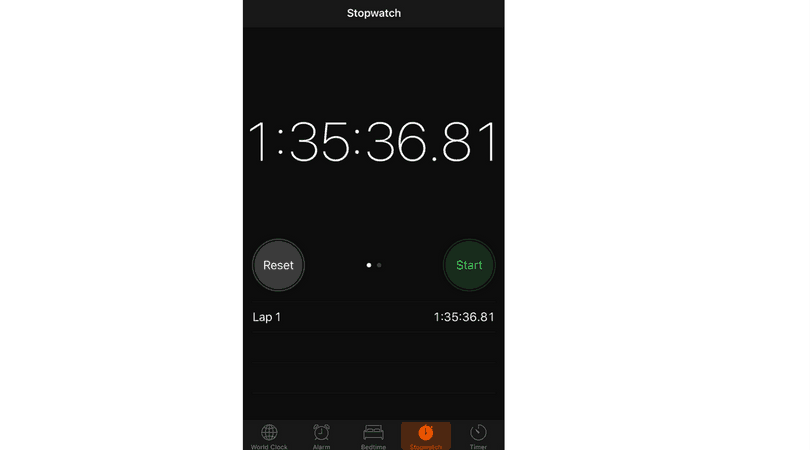 Not too bad!
**Side note: Portion sizes vary by individual needs. Be sure to adjust your serving sizes accordingly. If you have questions regarding portion sizes, feel free to contact me here.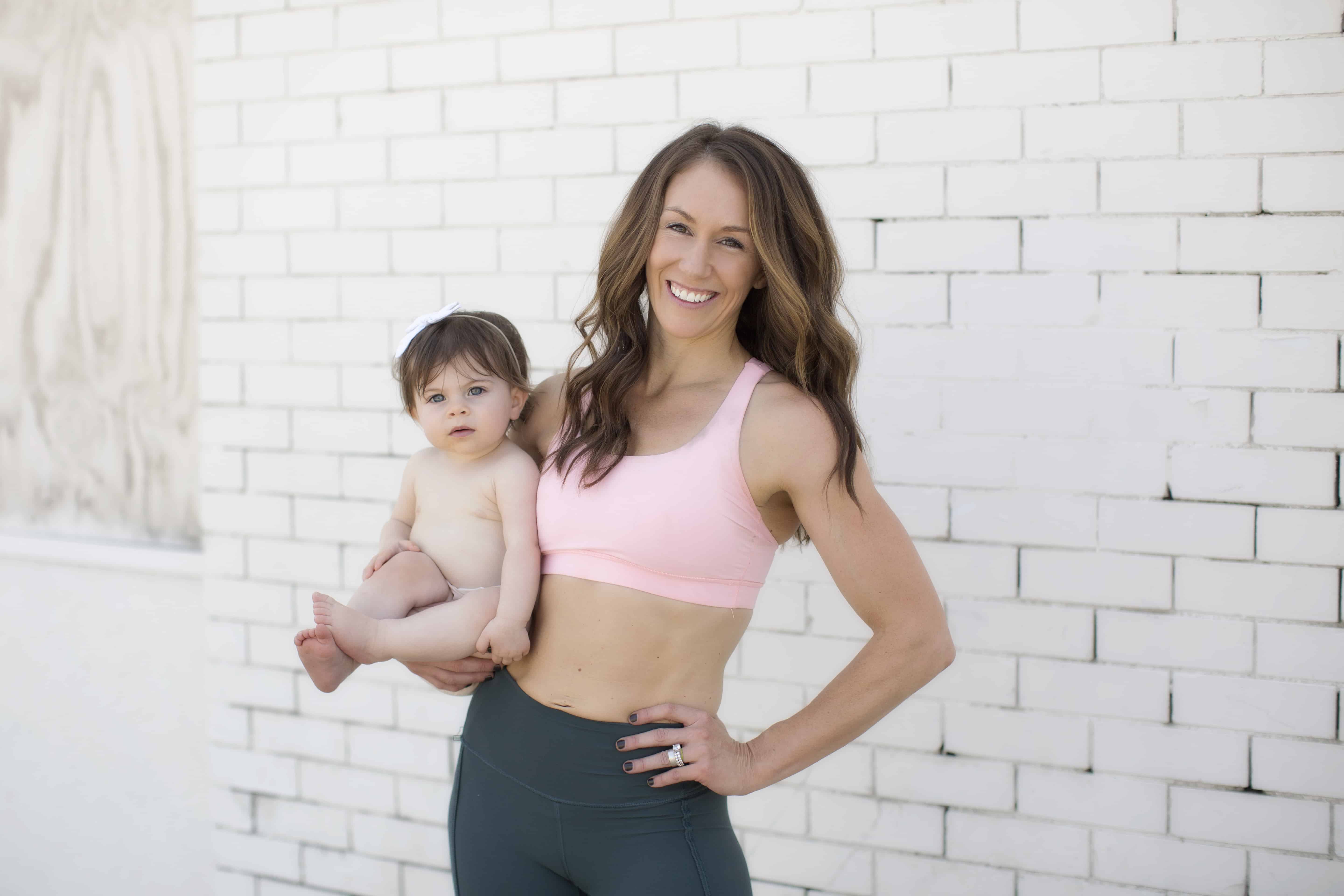 Brooke is a certified Prenatal and Postnatal Exercise Specialist with a Bachelors of Science degree in Kinesiology-Exercise Science. She is also a mom of 3 girls with more than 15 years of experience in health and fitness. Brooke's goal at Struggles of a Fit Mom is to help motivate, educate and inspire other busy mamas who struggle with finding time, energy and motivation to take care of themselves in the chaos of motherhood.