Holiday season is upon us and your mouth is probably already watering thinking about all the delicious home cooked meals you are about to eat, right? But many of us are also thinking about the dreaded Holiday weight gain.
So, how can you still enjoy these delicious holiday meals without sabotaging your weight loss goals?
Like most, this is my favorite time of year.
Pumpkin Spice everything, warm comfort foods and movie nights with lots of yummy snacks.
November is the beginning of when sticking to my diet and fitness goals really becomes a struggle.
Dreary weather and lots of yummy treats makes it tough for me to stick to my normal workout routine and eating habits.
This can quickly become a slippery slope. Neglecting workouts and eating extra calories over the holidays is a recipe for disaster.
In this post I share my favorite foolproof tips for preventing excess holiday weight gain without feeling deprived.
How Much Weight Does The Average Person Gain During The Holiday's?
According to recent studies, the average person gains about a pound from Thanksgiving to Christmas.
This may not sound like much but holiday weight gain can continue to stack up as our metabolisms slow as we age.
For some, Holiday weight gain can lead to continued weight gain for months after the Holdiay's are over.
Why?
Our bodies can start getting used to the higher caloric intake and continuing at that level after the holiday season may seem normal.
But the high calorie Holiday meals are obviously far from normal.
Eating just an extra 250-500 calories a day can add up to a 0.5-1 pound weight gain a week.
This is equivalent to about one tall nonfat Pumpkin Spice Latte from Starbucks.
How To Avoid This Holiday Weight Gain Trap?
Here a few of my favorite tips and tricks to avoid gaining extra weight this holiday season without feeling deprived.
1. Avoid Calorie-Laden Drinks
Eggnog, specialty coffee's and cocktails are loaded with empty calories.
Sure they taste great. But these drinks do not provide your body with anything except the need to buy a bigger belt.
Drinking your calories will not satisfy your appetite and most of these drinks will leave you in a sugar high followed by an exhausting crash.
Save those calories for more filling foods that won't leave you hungry and serving yourself seconds an hour later.
Related: Skinny Pumpkin Spice Latte with Anti-aging Benefits
2. Ruin Your Diet Before You Get to your Holiday Parties!
Feeling famished in the presence of delicious food can sabotage your waistline by thinking with your stomach and not your mind.
Don't arrive starving and wanting to reach for anything and everything in sight.
Grab a handful of protein rich foods like nuts or cheese with fruit before you leave the house.
This will leave you less inclined to fill up on unhealthier options later.
3. Plan Ahead
This is my favorite tip.
If you know that you will be attending a holiday party over the weekend, avoid splurging or deviating from your meal planning during the week.
This means cutting back a little on your calories each day leading up to your event and give yourself a little cushion to consume extra calories at your party.
Overeating one day will not sabotage your waistline.
However, overeating for many days will.
By reducing as little as 100-200 calories a few days prior to your event, you can save yourself from gaining too much extra weight during the holiday's
You don't have as much control over what you eat at a party but you do have control over what you eat at home.
Planning ahead can prevent you from eating too many calories throughout the week.
4. Fill Up on Water
Save calories by drinking a couple glasses of calorie free water before you dig into those holiday treats.
This will help fill your stomach and leave you less likely to overeat.
5. Load up on Vitamin C
Cold weather, holiday stress and less exercise is a recipe for getting sick during winter months.
Sticking to your health and fitness goals is hard enough over the holidays.
However, getting sick will make it almost impossible.
Taking a good multivitamin can help prevent you from getting sick.
Personally, my husband and I drink one packet of Emergency-C every single day.
6. Make Sleep a Priority
The holidays are busy and stressful.
However, sleep is crucial to surviving this crazy time of the year.
Not getting adequate sleep can lead to weight gain and increase susceptibility to sickness.
Lack of sleep also increases levels of a hormone called "cortisol."
Cortisol increases hunger which can cause weight gain.
To have better control over hunger and avoid extra weight gain, make sleep a priority!
7. Exercise to Prevent Holiday Weight Gain!
Not only will working out help burn calories and assist in preventing holiday weight gain but it will also help reduce holiday stress.
Cortisol is also released as a result of stress.
Again, this hormone can cause weight gain by increasing hunger.
Finding time and energy during the holidays is tough.
But my philosophy is, "something is ALWAYS better than nothing."
I love my high intensity interval training workouts during the holiday season because they can be done in 4-20 minutes and they leave you burning MORE calories all day long!
You can download 5 of my favorite fat burning workouts right here.
All of the workouts can be done in 10 minutes!
Related: 7 HIIT Workouts That Burn Fat In As Little As 4 Minutes
8. Watch Your Alcohol
I am all for having some fun cocktails, Champagne and wine over the holiday's!
However, not only does alcohol contain empty calories but we also tend to eat more when we drink.
I suggest swapping high calorie cocktails like Margaritas, Bloody Mary's or Baily's and Cream for wine, champagne or vodka with a calorie free mixer.
And always make sure you drink plenty of water with your alcoholic beverages!
9. Load Up On Protein
Traditional Holiday meals tend to be higher in carbohydrates than protein.
Carbohydrates tend to digest more quickly in our bodies leaving us hungrier and more tired.
They also cause our bodies to retain more water.
Increasing your protein will help you feel more full, longer which is important for weight management.
Protein is also great for weight management because it boosts your metabolism as well has levels of appetite suppressing hormones.
10. Limit Desserts
Ugh, this one is tough!
Dessert is everywhere during the Holiday season and while they may taste great, the excess sugar is a very common cause of weight gain.
If avoiding all the delicious treats seems impossible, try cutting way back on portion sizes.
This will help you continue to manage your weight without feeling deprived.
11. Grab a Smaller Plate
This is a tip I use all times of the year!
Potlucks are common during the holiday season but they don't have to sabotage your waistline.
You are likely to over indulge eating from a larger plate.
Using a smaller plate forces you to control portion sizes.
Just don't go back for seconds!
12. Move More As A Family
The Holiday's tend to favor more sedentary activities such as playing board games, watching T.V. or jus relaxing with friends.
However, the combination of more sedentary activities and higher calorie meals will contribute to Holiday weight gain.
Increasing your activity as a family such as going for family walks or even taking fitness classes together can help you stave off some unwanted pounds.
How To Get Back on Track
I love the Holidays but moderation is key to surviving them without the extra pounds and sabotaging your waistline.
I often find myself really struggling to get back on track with my eating habits and workout routines after the holidays.
I feel famished eating my normal meal plan and exhausted from just a simple warm up.
This is why staying on track is so important!
Eating more balanced over the Holidays helps getting back on track feel a little less daunting.
Remember, the Holiday's are not a time to give up on your health and fitness goals.
So, this month, I challenge you to start practicing these tips before the holidays strike.
Be sure to follow me on Facebook or Instagram for more workout ideas and motivation!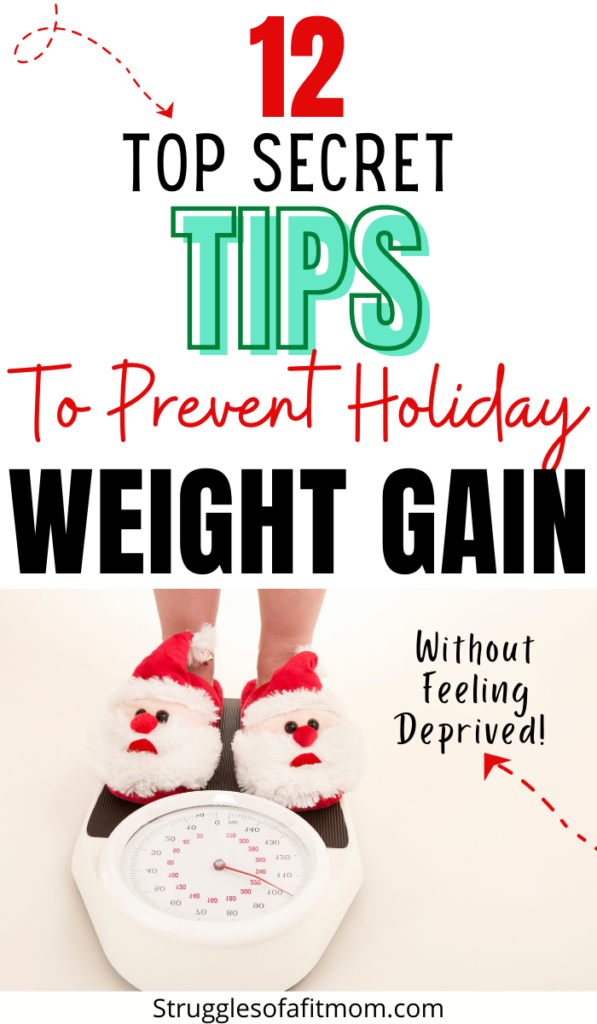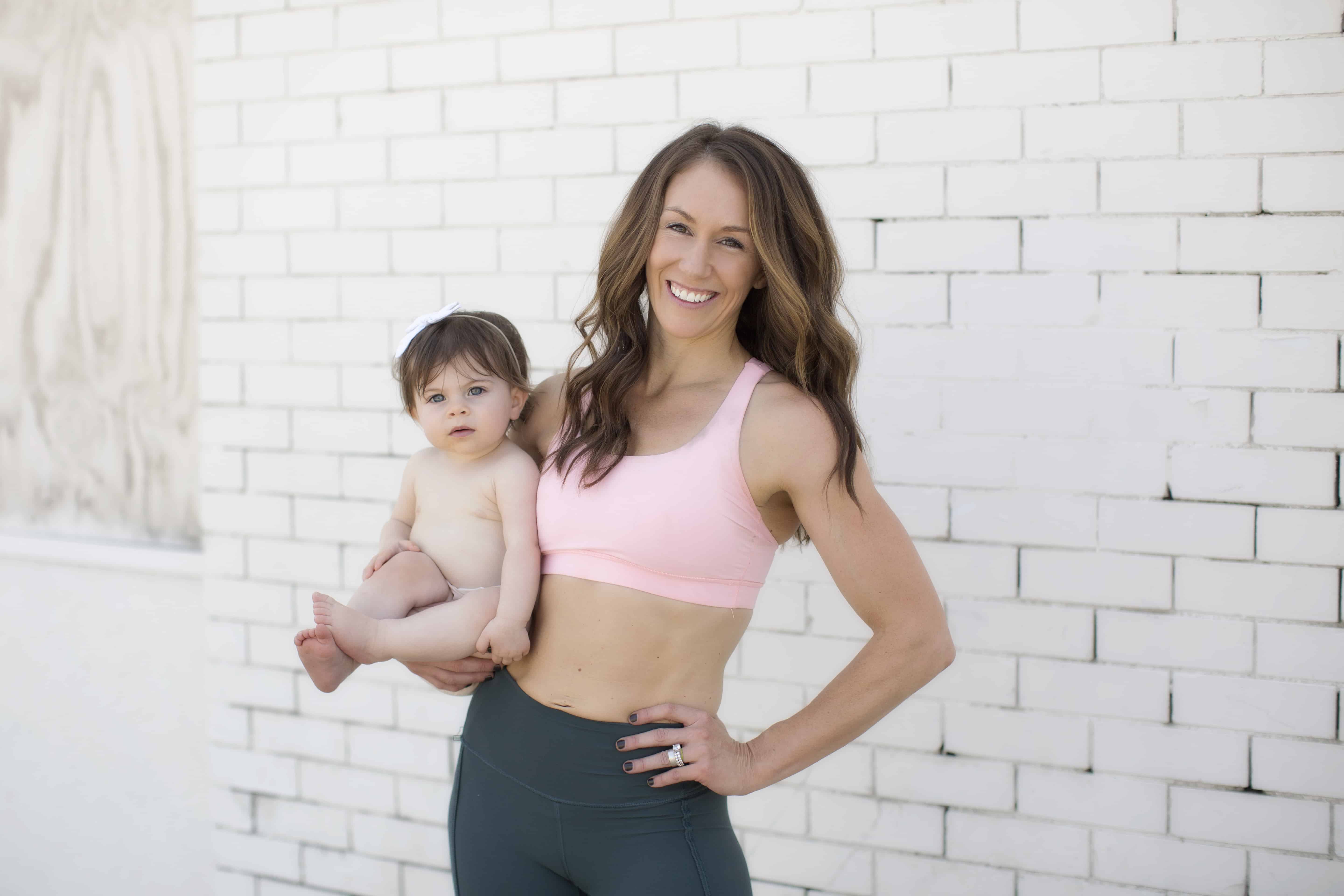 Brooke is a certified Prenatal and Postnatal Exercise Specialist with a Bachelors of Science degree in Kinesiology-Exercise Science. She is also a mom of 3 girls with more than 15 years of experience in health and fitness. Brooke's goal at Struggles of a Fit Mom is to help motivate, educate and inspire other busy mamas who struggle with finding time, energy and motivation to take care of themselves in the chaos of motherhood.